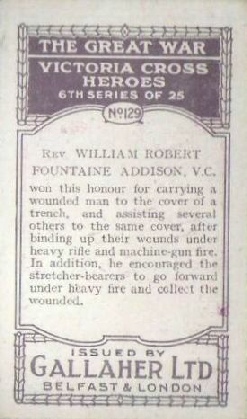 Rev. William R. F. Addison VC (1883-1962)
William Addison came from Odiham, Hants. He was educated at Robert May's Grammar School, Odiham, and Salisbury Theological College, and spent some time working in a Canadian logging camp. He was ordained in 1913 and was appointed curate of St. Edmund's Church, Salisbury.
On the outbreak of war he volunteered for the Army Chaplain's Department, and was posted to the 13th Division in Mesopotamia (Iraq). Serving as Chaplain of the Forces, 4th Class, he was awarded the VC for his action at Sanna-i-Yat, Mesopotamia, on 9 April 1916.
His citation from The London Gazette (issue 29765 of 26 September 1916) reads:
"Rev. William Robert Fountaine Addison, temp. Chaplain to the Forces, 4th Class, Army Chaplain's Department.
"For most conspicuous bravery. He carried a wounded man to the cover of a trench, and assisted several others to the same cover, after binding up their wounds under heavy rifle and machine gun fire. In addition to these unaided efforts, by his splendid example and utter disregard of personal danger, he encouraged the stretcher-bearers to go forward under heavy fire and collect the wounded."
Rev. Addison was invested with the VC by King George V at Buckingham Palace on 3 August 1917.
Following the end of the First World War William Addison remained in the Army Chaplain's Department, serving in several posts in England, in Khartoum, Malta, and with the Shanghai Defence Force. He retired from Army service as a chaplain in August 1938, after serving for more than twenty years, and having lived in twenty-one different houses. During the Second World War Addison was re-appointed chaplain to the forces in 1939 and deputy assistant chaplain-general in South Wales.
William Addison died in St Leonards-on-Sea, Sussex, on 7 January 1962. On 11 January his funeral took place at St Barnabas's Church, Bexhill-on-Sea, and was buried in Brookwood Cemetery on the same day. His VC medal is on display at the National Army Museum in London.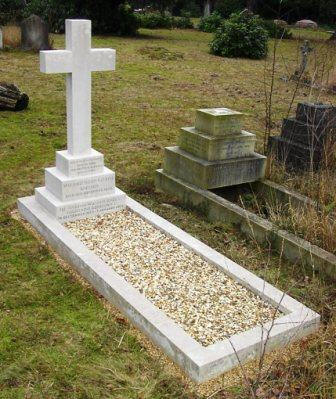 Memorial to Rev. William R. F. Addison VC
Copyright © 2007 by John M. Clarke All Rights Reserved