This grave in plot 109 commemorates five victims of an air crash which took place on Thursday 11 September 1963. A Vickers Viking aircraft, operated by a Paris-based charter company called Airnautic (on behalf of Lyons Tours Ltd), crashed into the Pyrenees near Perpignan during a night charter flight from Gatwick. All 36 British tourists and the French aircrew of four were killed.
It appears the aircraft caught fire after flying into the Pic de la Roquette (5,350 ft), a few miles from the Spanish border. It is believed the plane was swept off course by violent storms of wind and hail that were raging at the time it was due to land. Lost in the high bleak mountains, the plane crashed less than 50 miles south west of Perpignan.
The Vickers Viking, a two-engined aircraft, was due to land at 1.30am. The pilot, Captain Max Dunoyer, contacted the control tower a few minutes earlier informing them he was preparing to land. He referred to the bad weather, but gave no indication he was in the region of the Canigou Massif.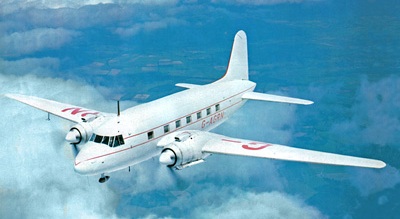 A Vickers Viking
The Viking, developed from the wartime Wellington bomber, was considered a very robust design. The wreckage was located about 5,000 ft high on the northern slope of the Pic de la Rocquette, not far from the small village of Py.
The full list of casualties was published in The Times dated 13 September 1963. They included one couple from Filey, who had married the previous Tuesday and were en route to the Costa Brava for their honeymoon. The bodies of the deceased were flown back to Britain for burial under arrangements made by Lyons Tours Ltd of Colne, Lancashire.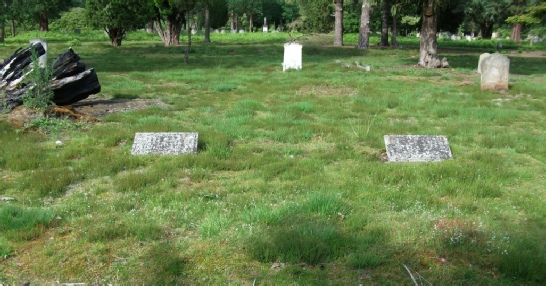 Of the 36 dead, the bodies of six casualties were subsequently buried at Brookwood. Funeral arrangements appear to have been undertaken by J H Kenyons. They were buried side by side in a grave fronting Holly Avenue, to the left of the victims of the 1959 Barcelona air crash. However no kerbing was placed around the grave, just stone markers for each corner of the plot, and these are far from clear. The families represented at Brookwood are not local, so it is unclear why they were buried here, since it is assumed all the other families were buried near their home towns. The families buried at Brookwood came from Newthorpe, Nottinghamshire; Harrow, Middlesex; and Nelson, Lancashire. Only two of the three families has memorials, and these make no reference to the plane crash.
Another reminder of the dangerous and turbulent airspace surrounding Perpignan is the larger adjacent grave commemorating victims from the Perpignan air crash of 1967.
A Vickers Viking (G-AGRU) is currently being restored at the Brooklands Museum.
Copyright © 2012 by John M. Clarke All Rights Reserved