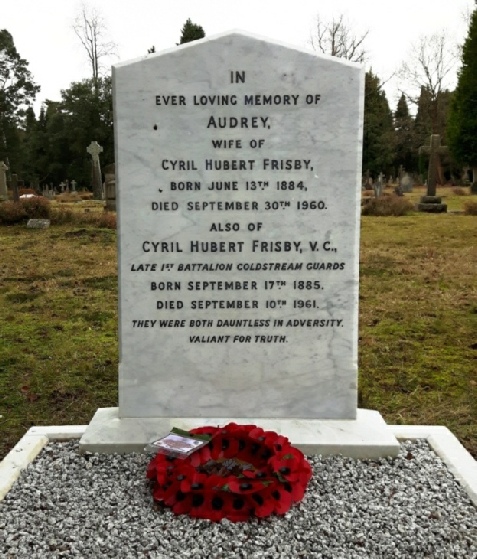 The grave of Cyril Hubert Frisby VC (1885-1961)
Cyril Hubert Frisby was a member of the London Stock Exchange before enlisting as a soldier.
He was awarded his VC for his actions on 27 September 1918 at the Canal du Nord, near Graincourt in France.
His citation from The London Gazette (Supplement 31034 of 26 November 1918) reads:
"For most conspicuous bravery, leadership and devotion to duty in action on the 27th September, 1918, across the Canal Du Nord, near Graincourt, when in command of a company detailed to capture the Canal crossing, on the Demicourt-Graincourt road. On reaching the Canal the leading platoon came under annihilating machine-gun fire from a strong machine-gun post under the
old iron bridge on the far side of the Canal, and was unable to advance, despite reinforcing waves. Capt. Frisby realised at once that unless this post was captured the whole advance in this area would fail. Calling for volunteers to follow him, he dashed forward, and, with three other ranks, he climbed
down into the Canal under an intense point-blank machine-gun fire and succeeded in capturing the post with two machine guns and twelve men.
"By his personal valour and initiative he restored the situation and enabled the
attacking companies to continue the advance.
"Having reached and consolidated his objective, he gave timely support to the company on his right, which had lost all its officers and sergeants, organised its defences, and beat off a heavy hostile counter-attack.
"He was wounded in the leg by a bayonet in the attack on the machine-gun post, but remained at duty throughout, thereby setting a splendid example to all ranks."
Frisby was one of 100 holders of the VC who formed a guard of honour to the body of the Unknown Warrior in Westminster Abbey on 11 November 1920.
Copyright © 2009 by John M. Clarke All Rights Reserved