Born in South Africa, John Sherwood-Kelly served in the South Africa War (1899-1902) and in Somaliland (1902-4). During the First World War, he came to Britain and joined the Norfolk Regiment.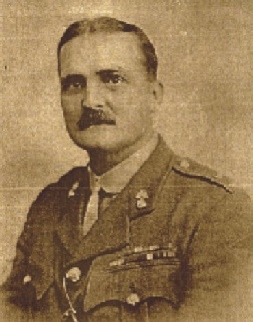 Lieutenant Colonel John Sherwood-Kelly VC (1880-1931)
On 20 November 1917, Sherwood-Kelly was in charge of a party of men held up on one side of a canal bridge near Marcoing in France. During the subsequent advance across the canal, Sherwood-Kelly's brave actions resulted in his being awarded the Victoria Cross.
His citation from The London Gazette (issue 30471 of 8 January 1918) reads:
"For most conspicuous bravery and fearless leading when a party of men of another unit detailed to cover the passage of the canal by his battalion were held up on the near side of the canal by heavy rifle fire directed on the bridge. Lt.-Col. Sherwood-Kelly at once ordered covering fire, personally led the leading company of his battalion across the canal and, after crossing, reconnoitred under heavy rifle and machine gun fire the high ground held by the enemy.
"The left flank of his battalion advancing to the assault of this objective was held up by a thick belt of wire, whereupon he crossed to that flank, and with a Lewis gun team, forced his way under heavy fire through obstacles, got the gun into position on the far side, and covered the advance of his battalion through the wire, thereby enabling them to capture the position.
"Later, he personally led a charge against some pits from which a heavy fire was being directed on his men, captured the pits, together with five machine guns and forty-six prisoners, and killed a large number of the enemy.
"The great gallantry displayed by this officer throughout the day inspired the
greatest confidence in his men, and it was mainly due to his example and devotion to duty that his battalion was enabled to capture and hold their objective."
By 1918, Sherwood-Kelly was Acting Lieutenant-Colonel of the Royal Inniskilling Fusiliers. In 1919 he commanded the 2nd Hampshire Regiment in Northern Russia. On 20 June 1919, in an attack on Troitsa, he refused to attack because he felt his forces would be cut off. He wrote home to a friend criticising the attack. He was relieved of his command. Sherwood-Kelly was subsequently court martialed on 29th October 1919 with a severe reprimand.
So ended his military career, and he was never allowed to rejoin the army, despite several attempts to do so. Sherwood-Kelly's Victoria Cross is displayed in the National Museum of Military History in Johannesburg.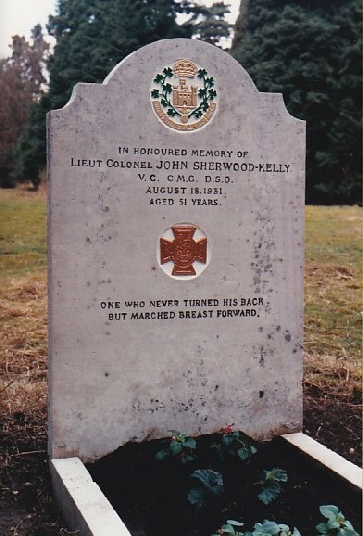 The grave of John Sherwood-Kelly VC, in plot 81
Copyright © 2009 by John M. Clarke All Rights Reserved