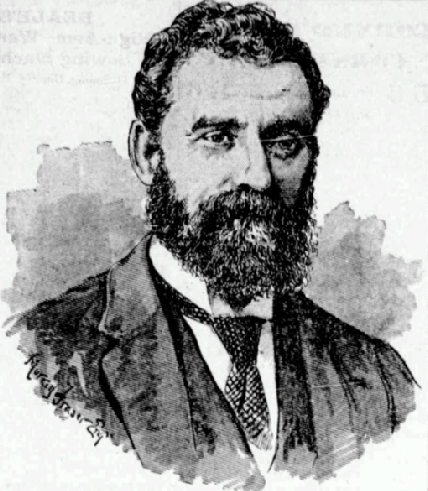 William Smyth (1845-1899)
William Smyth was for fifteen years a member for Gympie in the Legislative Assembly of Queensland, Australia. He died in London following an operation.
William Smyth was one of 12 children. His father, who had emigrated from Ireland to Australia, ran a corn chandler's business in Sydney until the late 1850s. His father then decided to try his luck in gold prospecting, and the family moved 300 miles south of Sydney. William worked with his father at Braidwood gold field, from 1861, worked as a miner at Araluen for six years, and followed the gold rushes at Lachlan and Weddin Mountain.
William arrived in Gympie in 1868, where another gold field was discovered. He worked in the mines, and began to build a reputation as an efficient manager. Over the years he was manager at West Inglewood 2 & 3, Smithfield South and NZ Junction mines; Manager and Director of Great No 1 North Phoenix mine (holding 7,000 shares in the mine); had interests in Nos. 3 & 4 North Glanmire, 2 Great Eastern, Harkins, and 3 & 4 Phoenix mines. His wider business interests were reflected in his involvement with alluvial and quartz mining, and his being appointed a Director of the Royal Bank of Queensland, of the Gympie Gas Company and of the One Mile Sawmill.
By now a successful businessman, William entered the Legislative Assembly of Queensland as the member for Gympie. He remained a member for the rest of his life. He was recognised as the authority on mines and mining in the Assembly, and was nicknamed "Bill, the Miners' Friend" as he introduced a number of reforms in the industry.
William Smyth travelled extensively - including to England - to recruit mine managers and to set up new business connections. At home he was actively involved in establishing a hospital, school, Masonic Lodge, library and School of Arts in his district. He always had the welfare of his own community close to his heart.
What proved to be his final voyage to England would have been just another business trip for him. He travelled with his wife and a niece, arriving in London in early May, 1899. He also travelled as the honorary representative of the Government of Queensland to the Greater Britain Exhibition at Earls Court Exhibition. The exhibition included mineral displays by Queensland and Western Australia, and a model gold mine.
But William fell ill on his arrival in London, and symptoms of blood poisoning were diagnosed, possibly the remains of dengue fever contracted years before. Despite having access to the best doctors in London, his condition worsened. Finally, two eminent surgeons were engaged to carry out an investigative operation at the Chelsea Hospital, after which he was moved to the Belgrave Nursing Home to recuperate. Here he died suddenly almost immediately after the operation.
A memorial service was held at the Marylebone Presbyterian Church on 19 July. Amongst the wreaths was one from the Government of Queensland with the message "Queensland gratefully remembers her public men". Afterwards, family and friends travelled on the Necropolis Train for the burial at Brookwood. The service in the cemetery was led by Mr Taylor, a Presbyterian Divien from Brisbane. Also present were at least fifteen residents of Gympie.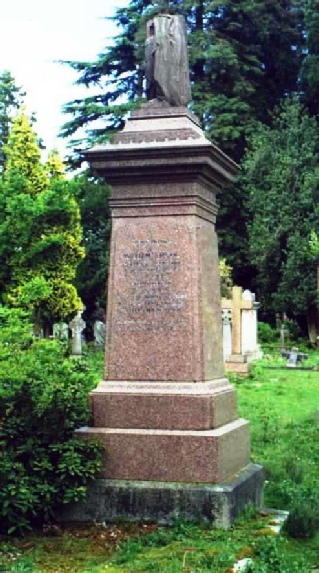 Subsequently a large pedestal memorial, made of pink granite topped by a shrouded urn, was placed over his grave. It was made by the Glasgow firm of monumental and architectural sculptors, J & G Mossman. The inscription reads:
IN LOVING MEMORY OF
WILLIAM SMYTH
OF GYMPIE, QUEENSLAND
BORN AT SYDNEY, NSW, 13TH MAY 1845
DIED AT LONDON 15TH JULY 1899
FOR 15 YEARS MEMBER FOR GYMPIE
IN THE LEGISLATIVE ASSEMBLY
OF QUEENSLAND, AUSTRALIA
"He is not dead, his memory lives,
He loved the people well"
Copyright © 2019 by John M. Clarke
All Rights Reserved