Drummer William Kenny VC (1880-1936)
William Kenny was born in Drogheda, County Louth in 1880. He served in the Boer War, where he was awarded the Queen's South Africa Medal with Bars and the King's South Africa Medal with Bars. In 1914 During the First Battle of Ypres, Kenny was serving as a Drummer with the 2nd Battalion of the Gordon Highlanders. His unit was posted between Kruiseecke and Zandvoorde, southeast of Gheluvelt and the Menin Road, and he was awarded the Victoria Cross for the following deed which took place on 23 October 1914.
His citation from The London Gazette (issue 29074 of 16 February 1946) reads:
"S6535 Drummer William Kenny, 2nd Battalion, The Gordon Highlanders.
"For conspicuous bravery on 23rd October, near Ypres, in rescuing wounded men on five occasions under very heavy fire in the most fearless manner, and for twice previously saving machine guns by carrying them out of action. On numerous occasions Drummer Kenny conveyed urgent messages under very dangerous circumstances over fire-swept ground."
Kenny was discharged from the army in 1919 as a Drum Major (Sergeant). For many years he was a Commissionaire, acting as a uniformed doorman and professional greeter for a number of hotels, banks, and shops in the West End of London. It also appears he worked for a period in the early 1930s at the Warnes Hotel Worthing.
In 1936 he was living at the Corps Barracks in Hammersmith, when he was suddenly taken ill and taken to Charing Cross Hospital where he died at the age of 55.
On 20 March 1999 the grave of William Kenny received a new headstone in the Corps of Commissionaires plot, arranged by the London branch of the Gordon Highlanders Regimental Association. Although Kenny was buried in 1936, the original marker (probably of wood) was lost and until this stone memorial was erected, Kenny was not otherwise commemorated.
His Victoria Cross and other medals are on displayed at the Gordon Highlanders Museum, Aberdeen.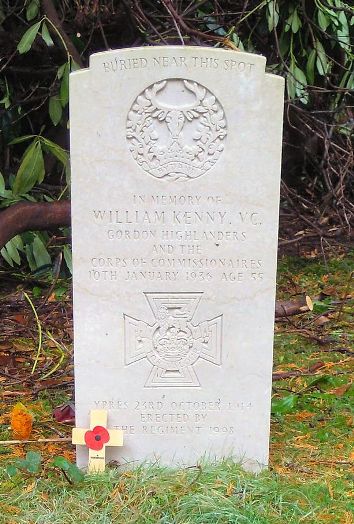 Copyright © 2007 by John M. Clarke All Rights Reserved