Historian of Brookwood Cemetery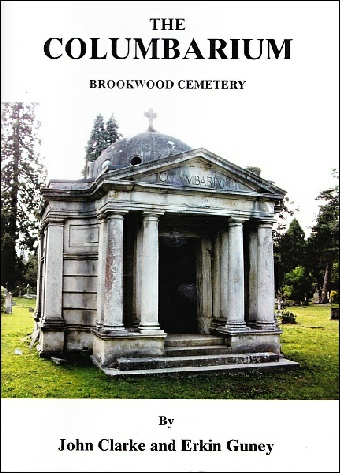 The Columbarium
by John Clarke & Erkin Guney
Published by Brookwood Park Limited, 2010
Paperback, with 40 pages, and 23 illustrations (mostly in colour)
Price: £5.00 (UK address only)
No ISBN
To Order:
Alternatively, if you are interested in ordering a copy, please feel free to contact me.
The Columbarium (Brookwood Cemetery) celebrates the centenary of the Columbarium and the completion of emergency repairs to its roof.
The story of the Columbarium goes back to the late 1870s when the building was commissioned by the 5th Earl Cadogan as a private mausoleum for the burial of his eldest son who died in August 1878.
The story of the mausoleum is traced through its change of ownership in June 1910 and its subsequent conversion into a columbarium. There are brief biographies of some of those whose ashes lie within (which supplement those listed in my London's Necropolis: A Guide to Brookwood Cemetery, an account of the emergency repairs to the roof, and a short account of the first columbarium at Brookwood.