Historian of Brookwood Cemetery

Introduction to Brookwood Cemetery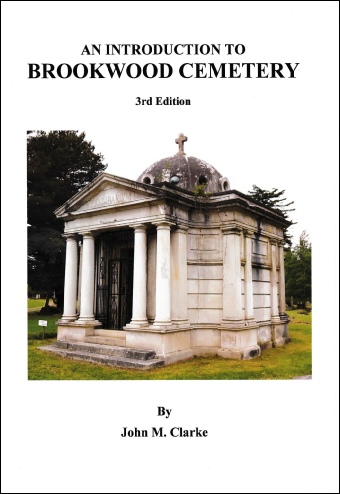 An Introduction to Brookwood Cemetery
by John M Clarke
3rd edition
Published by the author, 2019
Paperback, with 40 pages, and 42 illustrations (mostly in colour)
Price: £5.00 (UK address only)
ISBN: 9781838130800
To Order:
Alternatively, if you are interested in ordering a copy, please feel free to contact me.
An Introduction to Brookwood Cemetery (3rd ed.) is a revised, updated and expanded brief guide to Brookwood cemetery. It replaced the second edition of this introductory guide in 2019.
The new edition covers 67 graves or sections of interest within the cemetery. The centre pages show a map of the cemetery which allows you to identify the numbered items within the text.
Like my other booklets on Brookwood, the Introduction to Brookwood Cemetery is printed on high quality art paper throughout, with a card cover.
(Details of the original edition and second edition of my introductory guide are also available.)