Historian of Brookwood Cemetery

London Cemeteries in Old Photographs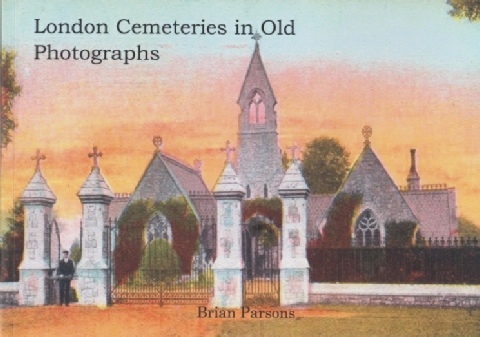 London Cemeteries in Old Photographs
by Brian Parsons
Price £12 (paperback), including UK postage
94pp. with nearly 190 illustrations
Only available via www.brianparsons.org.uk
London Cemeteries in Old Photographs is a large A4 landscape format paperback printed on quality paper. Its format is ideally suited for this purpose. It has been published to accompany the new (sixth) edition of London Cemeteries: An Illustrated Guide & Gazetteer, which is due out in July 2021 and published by The History Press. London Cemeteries in Old Photographs incorporates nearly 190 illustrations that could not be included in the Guide & Gazetteer for reasons of space. The contents are arranged to follow the same order each cemetery appears in the Guide & Gazetteer so that the two volumes can be used together. Hugh Meller, the co-author of the Guide & Gazetteer has contributed a foreword.
The majority of the illustrations in this book are taken from commercially published postcards produced in the early years of the twentieth century. A wide range is included, showing cemetery entrances, chapels, landscapes, private graves and mausolea. In addition there are a few illustrations from architectural and other journals, along with some advertisements and ephemera. All the pictures have reproduced extremely well, and some have been enlarged to fill a whole page. The format chosen is especially appropriate, since the page size is in effect that of an enlarged postcard. Since the original cards were usually printed from original photographs, it is possible to scrutinize each picture in some detail, which is invaluable where the original buildings or memorials have long since disappeared.
London Cemeteries in Old Photographs has been privately published and is only available via the author's website. The initial print run is only 200 copies, and you would be well advised to snap up a copy whilst stocks last. It is highly recommended for the range of cemeteries covered and the variety and quality of the illustrations. Depending on the success of this volume, similar titles may follow, covering other areas of the UK. A treat in store!
Copyright © 2021 by John M. Clarke. All Rights Reserved