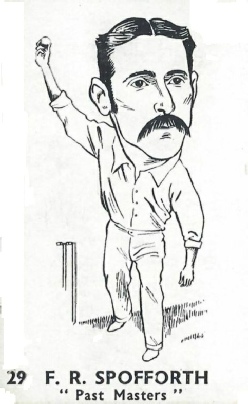 FREDERICK ROBERT SPOFFORTH (1853-1926) was an Australian cricketer. He was regarded by many as the greatest bowler who ever lived.
The death of Frederick Spofforth removes from the company of living cricketers the physical presence of an immortal. So long as the game is played he will take rank with Dr. W. G. Grace, Victor Trumper, Alfred Shaw, and a very few other heroic personages as a maker of history. It may be that, if he could be reincarnated as he was in 1878, the year in which he first visited England, and if he bowled precisely as he then did to modem batsmen, they would walk in front of all three stumps and use his quick break-back to turn the ball round the comer to the boundary on the leg side. That is beside the point, which is that he was beyond question the greatest bowler of his generation. He was called "the Demon", not by some ingenious journalist, but by the batsmen who played against him, and of him "W. G." said that, however well he might be set, he was never sure that "Spoff" would not bowl him out next ball.
Spofforth was born at Balmain, Sydney, on September 9, 1853. He came to England with each of the first five Australian teams that visited this country, and eventually settled here in 1888, taking part in several matches for Derbyshire in 1890, but being chiefly associated with the Hampstead Club. In 1878, when a considerable proportion of the Australians' programme consisted of matches against odds, he took 352 wickets, and in 1880, when they played only five eleven-a-side games up to the end of August, his wickets in first-class matches numbered only 46. In 1882 he took 188 wickets for 12 runs apiece, and in 1884 216 wickets, also for an average cost of 12 runs. Altogether in the five tours he obtained 662 wickets in first-class matches for about 12½ runs apiece.
Among his most memorable feats may be mentioned that at Lord's in 1878 on the occasion of the M.C.C. being beaten in a single day, when he took ten wickets for 20 runs, while Harry Boyle took nine for 17. This match with its startling result — for the M.C.C. team included several of the leading batsmen of the day — went a long way to make the fame of Australian cricket. Four years later, when Australia beat England at the Oval by seven runs, the triumph was primarily due to Spofforth, who took 14 wickets for 90 runs. In a game with an Eleven of England at Birmingham in 1884, when four hours' cricket was sufficient to decide the issue, Spofforth took seven wickets for 34 runs in the first innings and seven for three runs in the second. It is also on record that in 1878 against Eighteen of Hastings he took nine wickets in 20 balls, and in 1880 against Eighteen of Burnley 12 wickets in 18 balls.
The legends told about legendary heroes are seldom correct in every detail. It is commonly believed nowadays that Spofforth earned his nickname by his terrific pace. He was not, however, a fast bowler, because a fast bowler, properly so called, is one who cannot bowl a ball of bad length provided that the ball hits the ground. Spofforth never touched that measure of velocity, though he could send down a fast ball, and on occasions bowl for an hour or more without a man in the deep field to batsmen who by nature and training regarded the drive as one of the essential strokes in the game. His average pace was probably less than, that of Maurice Tate, but his variations of pace were greater than Tate's, though less violent than those by which Albert Trott made the lives of wicket-keepers a burden to them.
Spofforth stood over 6ft. in his socks. He looked as if ho got no nourishment from his food, but probably weighed a stone more than a casual observer would guess him to weigh. He took rather a long run up to the crease, crossed his feet at the moment of delivery, and almost brushed his right ear with his biceps. His long, skinny arm cut through the air like a whip-lash, and the sharpest sight was needed to detect the pace at which it was moving. A cricket ball, as delivered by Spofforth's flexible wrist and long, sinewy fingers, seemed to take on some of the hostile purposefulness which filled the soul of the bowler. Horan, the most trustworthy historian of Australian cricket in the days of its youth, rightly attributes to Frederick Spofforth and William Murdoch responsibility for its transition from crude mediocrity to formidable efficiency.
Frederick Spofforth died at his home, Ditton Lodge, Ditton, on 4 June 1926.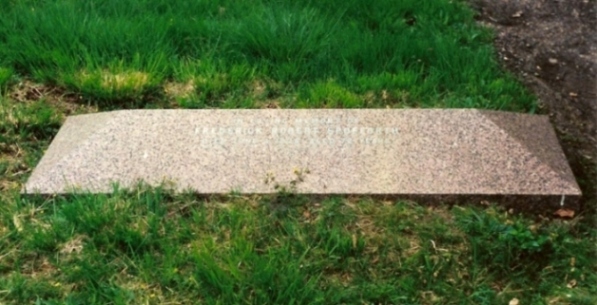 Further reading
Cashman, Richard. Frederick Robert Spofforth, In Oxford Dictionary of National Biography, Oxford University Press, 2004; online edition Sept 2004.
Mennell, Philip. Frederick Robert Spofforth. In The Dictionary of Australasian Biography. London: Hutchinson & Co., 1892.
Serle, Percival. Frederick Robert Spofforth. In Dictionary of Australian Biography. Sydney: Angus and Robertson, 1949.
Copyright © 2018 by John M. Clarke All Rights Reserved