Historian of Brookwood Cemetery
Researching Cemeteries: exploring a shared and living heritage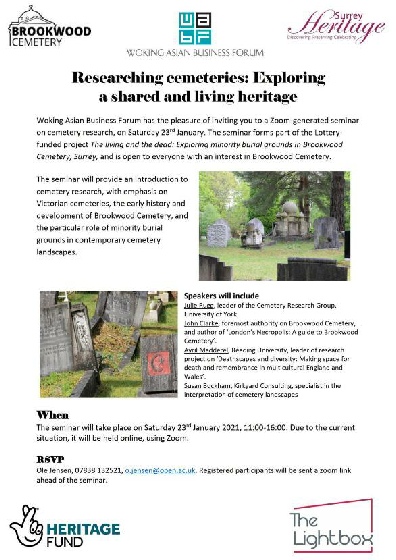 Woking Asian Business Forum has arranged a Zoom-generated seminar on cemetery research, on Saturday 23rd January 2021. The seminar forms part of the Lottery-funded project The living and the dead: Exploring minority burial grounds in Brookwood Cemetery, Surrey, and is open to everyone with an interest in Brookwood Cemetery.
The seminar will provide an introduction to cemetery research, with emphasis on Victorian cemeteries, the early history and development of Brookwood Cemetery, and the particular role of minority burial grounds in contemporary cemetery landscapes.
Speakers will include
Julie Rugg, leader of the Cemetery Research Group, University of York.
John Clarke, foremost authority on Brookwood Cemetery, and author of 'London's Necropolis: A guide to Brookwood Cemetery'.
(Please note my presentation has since been added to The Brookwood Cemetery Society website.)
Avril Madderel, Reading University, leader of research project on 'Deathscapes and diversity: Making space for death and remembrance in multicultural England and Wales'.
Susan Buckham, Kirkyard Consulting, specialist in the interpretation of cemetery landscapes
When
The seminar will take place on Saturday 23rd January 2021, 11:00-16:00. Due to the current Covid situation, it will be held online, using Zoom.
RSVP
Ole Jensen, 07838 132521, o.jensen at open.ac.uk Registered participants will be sent a zoom link ahead of the seminar.