Historian of Brookwood Cemetery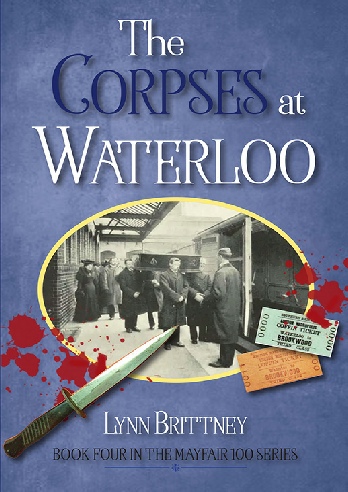 The Corpses at Waterloo
(Mayfair 100 Series Book 4)
by Lynn Brittney
Published by Iris Books, 2022
ISBN 9781907147838
Price £8.99 (paperback)
The number of novels inspired by or using the London Necropolis Company as a setting for an important part of the plot continues to grow. The Corpses at Waterloo is the latest of these, and was published by Iris Books in July 2022.
It is the fourth murder mystery in Lynn Brittney's "Mayfair 100" series. "Mayfair 100" refers to a team of mostly amateur female detectives assisted by hand-picked regular policemen to deal with certain crimes. The team was set up in May 1915 using the telephone number Mayfair 100, at a time when London was flooded with women taking over the work vacated by men serving in the armed forces. The sub-title of the first novel in the series was "a secret group of detectives solving crime in the seedy underbelly of World War 1 London".*
The novel starts with a crop of funerals about to depart from the Necropolis Company's private station and ends with an unexpected marriage. The story is set largely in wartime London of September 1915. Constable Billy Rigsby accompanies his mother and aunt to attend the military funeral of a neighbour's son at Brookwood. However the departure of the funeral train is interrupted by the unexpected and brutal murder of a young woman at the station. Billy telephones Mayfair 100 to assemble the team of detectives. When they arrive they find not only a murder, but two empty coffins along with another coffin containing a headless corpse with a heavily tattooed body – which is obviously not the body of the young soldier whose name is on the coffin lid.
The Mayfair 100 team then follow a trail of police corruption, a robbery requiring the assistance of the military police, and several violent crimes arising from the selfish passion of two lovers. The investigations of the team take them into unusual and disturbing aspects of wartime Britain. The plot is skillfully constructed and moves at a fast pace, with a cast of characters that include (in no particular order) the Chief of the Imperial Staff, Bernard Spilsbury, the Swiss Ambassador, Sylvia Pankhurst and the Home Secretary.
My study on The Brookwood Necropolis Railway is acknowledged alongside other sources used for the novel. I understand the inspiration for setting this murder mystery at the premises of the London Necropolis Company resulted from the author attending one of my lectures at Frederick Paine's in Kingston.
* The other titles in the series are Murder in Belgravia, A Death in Chelsea and The Body in Berkeley Square, all published by Iris Books. See https://irisbooks.co.uk/product-category/novels/
Copyright © 2022 by John M. Clarke. All Rights Reserved