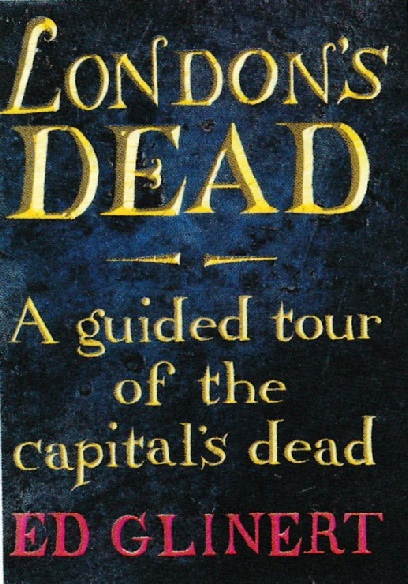 London's Dead: A Guided Tour of the Capital's Dead
By Ed Glinert
Collins, 2008
ISBN 9780007254972
£12.99
This book is not just another guide to London's cemeteries. It offers a new approach to the study of London's dead by describing them according to the manner of their deaths. Within its ample contents are presented the deaths of politicians, comedians, royals, spies, peasants and highwaymen. There are tragic deaths, accidental deaths, hoax deaths, pre-planned deaths, deaths while dancing, deaths from laughing, hanging, knifing. As the author notes in his introduction 'How [the dead] arrived at this probably terminal state is. I hope, what makes this book interesting'.
But the contents page shows a remarkably predictable approach by listing a purely geographical division of Greater London, although there is the intriguing chapter heading for the London Underground. The several indexes cover photographs, types of death, burial grounds, people, and places. Given the novel approach of this book it would have been far better to convert the 'types of death' index into the table of contents, for this would reinforce the author's theme.
Given the author's credentials as a Londoner and an expert on London (his previous books include The London Compendium, Literary London and East End Chronicles) there are some interesting anomalies in the text, although the basis for these is not really clarified. Is the criterion for inclusion that the deceased died in London or not? For instance, under "political assassinations" we have an account of the assassination of Sir Henry Wilson on the steps of his London home at 36 Eaton Place in 1922; but the account does not mention he was subsequently buried in the crypt of St Paul's Cathedral. Yet the book omits the assassination of Sir William Hutt Curzon Wyllie at the Imperial Institute in 1909. He also died and was buried in London (at Richmond) yet is not found here. Why? Similarly, although the King's Cross and Moorgate railway disasters are described, the disaster at Clapham Junction in 1988 is not. Why?
The criterion for inclusion continues to confuse, being both curious and contradictory. Why is Lord Nelson listed under "deaths in action" when his death took place off Cape Trafalgar? His obsequies are described in the book, which took place in central London, but this means the book reverts to being a "Who's Who" guide to where the famous are buried rather than an account of the different ways people died in London. Similarly General Wolfe, who died in Quebec in 1759. is also included as another anomaly: the book is either about curious deaths in London or it is not.
The photographs present further problems. They are all monochrome (which may be a deliberate ploy by the publishers to add "deathly gloom" to the pages) but all are poorly reproduced. There are no captions, meaning that in many cases their relevance to the text is unclear, and the photographic index hardly helps. Many are very dated: for instance the Burton mausoleum at Mortlake (p253) has since been cleaned, and one wonders exactly what purpose is served by the bizarre illustration on p201. Others are wrongly identified in the index: for instance the photograph on p53 is credited as Woodgrange Park, but is in fact the Jewish Cemetery at West Ham; the Maddick mausoleum on p223 is not at Nunhead but West Norwood; whilst the entrance gates on p218 are at Nunhead and not West Norwood ... and this is not an exhaustive list of corrections. Perhaps Mr Glinert wasn't responsible for collating these photographs, but most authors are.
It is unfortunate that the illustrations - which often add so much to the value of a book - are here a major obstacle. Overall I found this book a disappointment given its apparently novel approach. Since one of its sources is a very out of date edition (1981) of Hugh Meller's classic text on London Cemeteries, we can only await his new edition with great anticipation.
Copyright © 2008 by John M. Clarke. All Rights Reserved