Historian of Brookwood Cemetery

The Bisley Camp Branch Line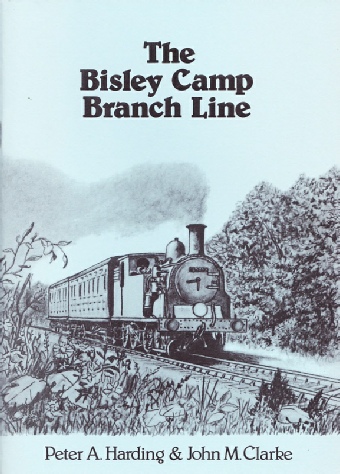 The Bisley Camp Branch Line
by Peter A Harding &
John M Clarke
Published by Peter A Harding, 1986 (and since reprinted)
Paperback, with 32 pages, and over 50 illustrations.
Price: £5.00
ISBN: 0950941425
To Order: you can enquire about the current availability of this book via Peter Harding by writing to "Mossgiel", Bagshot Road, Knaphill, Woking, Surrey GU21 2SG.
In case of any difficulty in ordering, please feel free to contact me.
The Bisley Camp Branch Line tells the story of Brookwood's other branch line serving Bisley Camp.
The story of the branch goes back to the founding of the National Rifle Association and its need to leave its original home on Wimbledon Common. Constructed as a "tramway" under the Tramways Act (1890), the branch opened in July 1890.
In addition to a history of the branch, the booklet describes the route of the railway (which was extended as far as Blackdown Camp in the First World War, and to Pirbright Camp in the Second World War), the motive power and rolling stock used on the branch, operating the branch, closure, and what can be seen today.
The illustrations include some timetable extracts and a selection of tickets used on the branch.