Historian of Brookwood Cemetery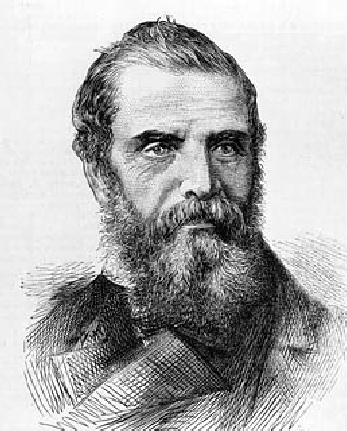 Richard Ansdell (1815-1885)
Richard Ansdell was an eminent Victorian animal artist.
He was a native of Liverpool and was educated at the Bluecoat School there. He was elected as a Royal Academician in 1870. His first pictures exhibited at the Royal Academy were "Grouse Shooting" and "A Galloway Farm". In 1846 he exhibited his celebrated picture "The Stag at Bay". In the following year its companion, "The Combat", appeared. In all Ansdell is estimated to exhibited around 180 paintings at the Royal Academy. He was noted for his painting of animals (such as "Lytham Sandhills") and field sports (such as "Winter Shooting"), with occasional portraits and historical subjects (such as "The Fight for the Standard"). In 1856 and 1857 he visited Spain, where he sketched a number of subjects that became well known though his subsequent paintings (such as "A Spanish Shepherd").
He married Maria Romer (1819-1896) in Liverpool in 1841. She bore eleven children, but only two are buried alongside them in the large family plot at Brookwood. They are Rosalie, their second daughter; and Harry Blair (1852-1884), their fourth son. Rosalie (died 1933) is buried with her husband, William Leech (died 1887), and Guy Ansdell Leech, one of their five children who died in 1904, aged 27.
Richard Ansdell had homes in Kensington, another near Lytham St Ann's (Ansdell, nearby, was named after him) and Collingwood Tower, near Frimley, where he died of bronchitis on 20 April 1885.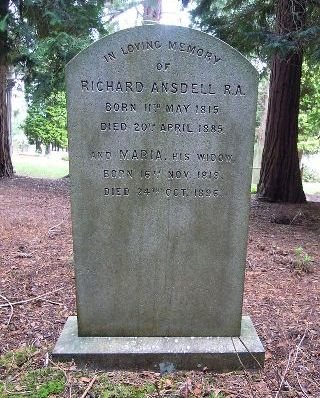 You can read more on Richard Ansdell on the official Richard Ansdell website run by his great great granddaughter, Sarah Kellam.
You can read more on Richard Ansdell in the Dictionary of National Biography (1901 supplement).
Copyright © 2018 by John M. Clarke All Rights Reserved