Private James Hollowell VC (1823-1876)
Born in Lambeth in 1823, James Hollowell was a private in the 78th Regiment of Foot (later The Seaforth Highlanders), during the Indian Mutiny. He was awarded the VC for his actions during the siege of Lucknow.
His citation from The London Gazette (issue 22154 of 18 June 1858) reads:
"78th regiment, Private James Hollowell. A party, on the 26th of September, 1857, was shut up and besieged in a house in the city of Lucknow, by the rebel sepoys. Private James Hollowell, one of the party, behaved throughout the day, in the most admirable manner; he directed, encouraged, and led the others, exposing himself fearlessley, and by his talent in persuading and cheering, prevailed on nine dispirited men to make a successful defence, in a burning house, with the enemny, firing through four windows. (Extract from Divisional Orders of Major-General Sir James Outram, GCB, dated 14th October 1857.)"
He later achieved the rank of Lance-Corporal. After leaving the Army he was employed by the Corps of Commissionaires. He died in Holborn on 4 April 1876 an was buried in an unmarked grave in the Corps of Commissionaires section of Brookwood Cemetery.
His Victoria Cross is displayed at the Regimental Museum of the Queen's Own Highlanders, Inverness-shire, Scotland.
The memorial shown below was erected in October 2000 in association with his regiment. The headstone is of the Commonwealth War Grave Commission pattern and grants permanent recognition of this brave soldier.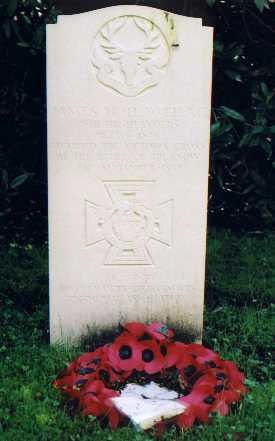 Copyright © 2007 by John M. Clarke All Rights Reserved