The Restoration of the Lake and the Reopening of the Glades of Remembrance
15 November 2009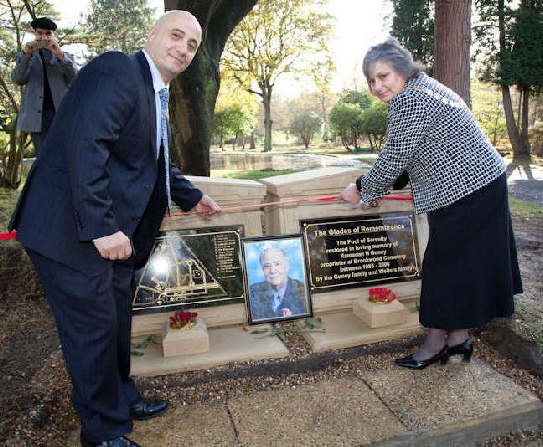 The Mayor of Woking unveiling the memorial plaque with Erkin Guney
The Lake (otherwise known as the Pool of Serenity) and the Glades of Remembrance was officially opened by the Mayor of Woking, Tina Liddington, on Sunday 15 November 2009. The Mayor was joined by the leader of Woking Borough Council, John Kingsbury, and the Councillor for Brookwood, Glynis Preshaw. Over fifty guests attended the ceremony.
The Mayor of Woking made a short speech about the Grade I listed cemetery and the important restoration work that has been undertaken by Erkin Guney, Managing Director of the cemetery. She unveiled the memorial to Ramadan Guney, owner of Brookwood Cemetery from 1985-2006, along with a map of the Glades.
Erkin Guney made a short speech explaining that the restoration of the lake was in memory of his later father. He went on to thank all those involved in the project, especially the Welters family whose company provided the technical backup for the project.
The lake was then blessed with holy water and incense by Father Alexis of the St Edward Brotherhood. Carp, sourced by Iain Welters, were then released into the lake by the children present. Readers will be interested to know that the lake already had several ducks living on it, and two geese joined them a few days later.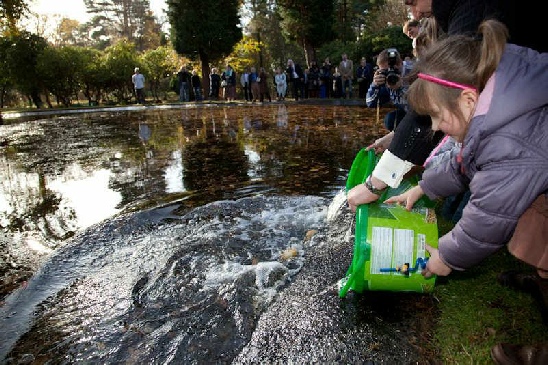 Children releasing carp into the Lake
Refreshments were served with the accompaniment of a harpist, the weather was kind and a really fantastic day was had by all who attended. It is hoped that families who have scattered ashes here will be pleased with the improvements.
The 25 acre Glades of Remembrance were designed by Edward White and originally dedicated on 11 May 1950 by the Bishop of Guildford. The Glades were designed to give a more permanent form of memorial for cremated
remains. The main feature of the Glades is the Pool of Serenity, situated beside the entrance.
The restoration of the lake was a project that the late Ramadan Guney dearly wanted completed and Erkin Guney has fulfilled his father's wish with the restoration of the lake and the surrounding channels.
Water has not been seen in the lake for about 20 years. The concrete lining had become cracked and leaked water. Previous attempts at sealing had failed. The surrounding channels were cleared and dredged by the cemetery staff, whilst the family firm of Welters Organisation Worldwide used special materials to seal the pool's lining. The effect of the filled lake is stunning.
Copyright © 2010 by John M. Clarke All Rights Reserved