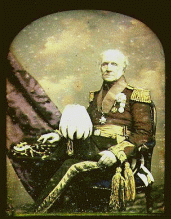 THIS memorial is the first permanent memorial to be erected in Brookwood Cemetery. It is a typical mid-nineteenth century memorial design, comprising a headstone and a footstone. The cost of this memorial can be estimated from early brochures published by the London Necropolis Company (LNC).
Lieutenant-General Sir Henry Goldfinch (c.1781-1854) was a Royal Engineer who served in the Peninsular War (1808-13), the campaigns waged between the British and French armies for the control of Spain and Portugal during the Napoleonic Wars. Afterwards, he was promoted to Colonel (1837) then Lieutenant-General (1851). He died at 11, Upper Wimpole Street, London,on 21 November 1854, aged 73. His funeral took place on Saturday 25 November (the only service on that day) and was conducted by the LNC's Anglican Chaplain, Rev. Henry Atcheson.
In the Burial Register, Goldfinch appears as entry No. 26, although he was in fact the 29th person to be buried at Brookwood. We can be fairly certain that this was the first private grave in the Cemetery because it was allocated as Grant No. 1, thus allowed the placing of a permanent memorial if the relatives or friends of the deceased so wished.
A standard "1st class" 9ft by 4ft grave cost £2-10-0 in 1854. It is quite possible that the memorial design was a standard one supplied by the LNC's statuary agents. At this time, the LNC did not make its own memorials, but had arrangements with London firms who would supply the customer's requirements, with the LNC taking a commission on the eventual charge.
The cost of this style of memorial was £3-0-0, plus 10/- for extra lettering. However, the headstone does not have a standard arc top but has a more subtle shape at the top. Note that this shape is not duplicated on the footstone.
The lettering is in standard plain capitals. The size of the lettering varies in the first line (largest) and is also taller in the third line (Goldfinch's name). The epitaph is useful in that it records the essential details of Goldfinch's career. It reads in full:-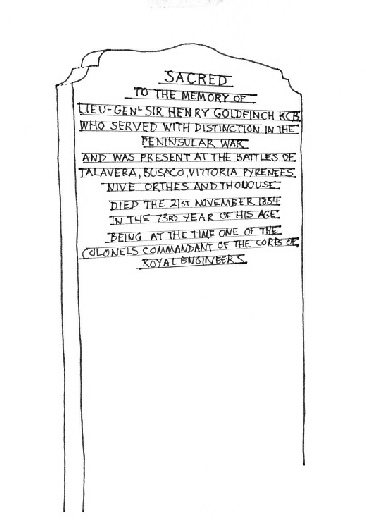 SACRED TO THE MEMORY OF
LIEU-GENL SIR HENRY GOLDFINCH KCB
WHO SERVED WITH DISTINCTION IN THE
PENINSULAR WAR
AND WAS PRESENT AT THE BATTLES OF
TALAVERA, BUSACO, VITTORIA, PYRENEES,
DIED THE 21ST NOVEMBER 1854
IN THE 73RD YEAR OF HIS AGE
BEING AT THE TIME ONE OF THE
COLONELS COMMANDANT OF THE CORPS OF
ROYAL ENGINEERS.
The footstone gives the full initials (and honours) of Goldfinch, along with his year of death:
L·G+S·H·G + K·C·B + 1854
Along with the grave number. Footstones typically record the initials of the deceased and the year of death.
[From Necropolis News, November 1996]
Copyright © 1996 by John M. Clarke All Rights Reserved