Historian of Brookwood Cemetery

The Brookwood Necropolis Railway 3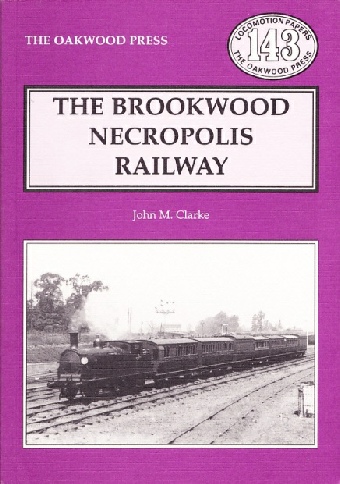 The Brookwood Necropolis Railway
John M. Clarke
3rd edition
Published by the Oakwood Press, June 1995
Paperback, with 120 pages, and 98 illustrations
Price: £8.95
ISBN-10: 0853614717
Note: this edition has been out of print for many years. It was replaced by the fourth (current) edition of 2006.
"Surely one of the most unusual train services to operate on a British railway was the service operated from Waterloo to Brookwood Necropolis, near Woking. It conveyed the deceased and their accompanying mourners to their final resting place, the Brookwood Necropolis which at one time was the largest cemetery in the world. The Necropolis was originally promoted as concerns about public health in the nation's capital and elsewhere had increased, London having suffered its first cholera epidemic in the mid-nineteenth century. The service finally ceased shortly after World War II.
"The railway had many unusual features, in the cemetery there were two stations one for the Anglican section and another for the Non-Conformist section. Somewhat surprisingly there were licensed premises at the stations. Visitors to the station bars have said there were notices displayed stating "Spirits served here"!
"This is the third edition of this very popular book, and it has been significantly enlarged. 128 pages printed on art paper throughout to A5 format, with a square backed Linson cover. 58 photographs, plus 17 maps, plans of buildings, track layout and special rolling stock used on the line as well as tickets and other ephemera connected to the railway and the Necropolis company."
Information on the second edition (published November 1988) is posted here.