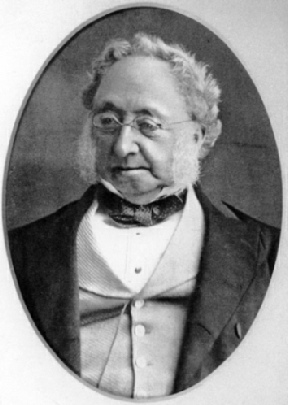 Thomas Hawksley (1807-1893)
Thomas Hawksley was a leading engineer in the water and gas industries during the nineteeth century.
He was born on the 12th of July 1807, at Arnold, near Nottingham. He was educated at Nottingham Grammar School until the age of fifteen, but was indebted to his private studies for his knowledge of mathematics, chemistry and geology. In 1822 he was articled to an architect in Nottingham, subsequently becoming a partner in the firm, which also undertook engineering work.
In 1852 he moved to London, and established an engineering practice in Great George Street, where he continued in active practice till he was well past eighty. His work was chiefly concerned with water and gas supply, and with main-drainage. Towards the end of his life he reckoned he had constructed around 150 waterworks, and a long list might be drawn up of important towns that owe their water to his skill, including Liverpool, Sheffield, Leicester, Leeds, Derby, Darlington, Oxford, Cambridge and Northampton in England; and Stockholm, Altona and Bridgetown (Barbados) in other countries.
He was water engineer to his native town of Nottingham for fifty years, and the system he designed for it was noteworthy from the fact that the principle of constant supply was adopted for the first time. The gas-works at Nottingham, and at many other towns for which he provided water supplies, were also constructed by him. He designed main-drainage systems for Birmingham, Worcester and Windsor among other places, and in 1857 he was called in, together with G. P. Bidder and Sir Joseph Bazalgette, to report on the best solution of the vexed question of a main-drainage scheme for London.
He was the first President of the Institution of Gas Engineers and Managers. In 1872 he was elected President of the Institution of Civil Engineers - an office in which his son Charles followed him in 1901. He died in London on the 23rd of September 1893.
In 2007, the bicentenary of his birth, MWH Global approached Brookwood Cemetery Ltd for permission to erect a permanent memorial on his grave. Previously there had been no memorial on what is a large private family plot in Brookwood Cemetery. This was agreed and a handsome granite memorial was put in place in time for members of the company to pay their respects on 5 December 2007. The granite memorial was designed and fitted by Tudor Rose Memorials.
Also in connection with the bicentennial celebrations, MWH released a DVD highlighting Thomas Hawksley's career and the projects the company is currently involved in. They also released a commemorative booklet celebrating his life and times.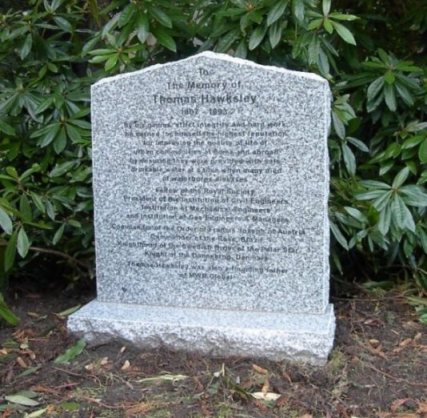 The new memorial commemorating Thomas Hawksley, commissioned by MHW Global in 2007.
You can read more on Thomas Hawksley in the Dictionary of National Biography (1901 Supplement)
Copyright © 2018 by John M. Clarke All Rights Reserved