Historian of Brookwood Cemetery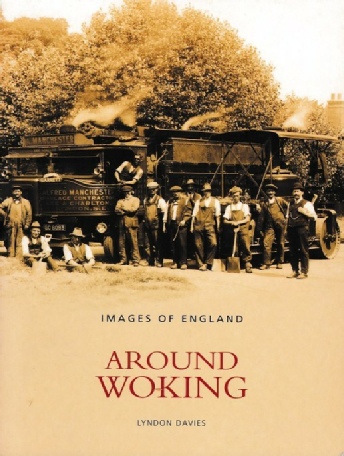 Around Woking
by Lyndon Davies
Published by Tempus Publishing, 2004
ISBN 0752432303
Price £12.99
This is a gem of a book, reproducing over 200 photographs taken by the Woking based photographer Sidney Francis during the 1920s and 1930s. Virtually all of the pictures reproduced in this volume have not been seen for over 70 years, therefore this is not just another local pictorial history, rehashing previously published material, but one providing new images of the past.
The author explains that Edith Francis (Sidney Francis's widow) offered him a number of her husband's original plate glass negatives in the 1970s. Over the years Lyndon Davies has managed to acquire other negatives taken by Sidney Francis, so that he now owns over 10,000 negatives. These are marketed by him under the name "Pastimages" and copies of photographs are available via the author.
From the Introduction we learn that Sidney Francis was not born in Woking, but moved to 88 Maybury Road in 1923 as a "photographic chemist". Sidney Francis always maintained a photographic studio in Woking, for the town provided much of his portrait and wedding work, along with commercial opportunities offered by the local press and local businesses (the London Necropolis Company included, although it is not clear if Sidney Francis worked as its official photographer during this period or not).
Sections cover Fit for heroes, At work, On the move, at play, Townsfolk, and Events and occasions. The book does not pretend to be a history of Woking, or a complete photographic record of the town during the 1920s-30s. Rather it reflects the interests of one of the town's photographers during this period. We must be grateful to the author and the publisher for allowing these rare images to be shared by a wider audience. Highly recommended!
Copyright © 2005 by John M. Clarke All Rights Reserved
Note: since this review was published, the collection has passed to the Surrey History Centre and can be explored online via the Exploring Surrey's Past website.