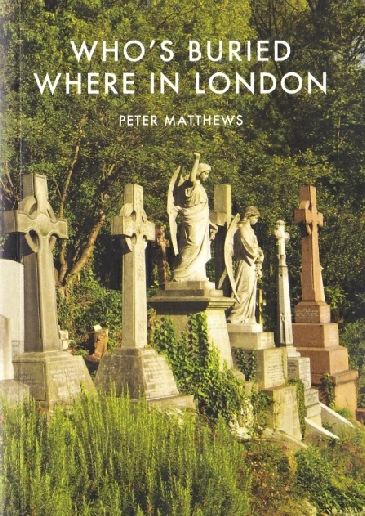 Who's Buried Where in London
by Peter Matthews
Published by Bloomsbury Shire, 2017
ISBN 9780747812968
Price £12.99
This is a new guide to "the resting places of a multitude of famous figures" across Greater London. Unlike Hugh Meller's and Brian Parson's London Cemeteries: An Illustrated Guide & Gazetter it is arranged geographically, not alphabetically, starting with the City of London before moving out to Westminster and the suburbs. Only four of the Magnificent Seven cemeteries have their own chapters (Brompton, Kensal Green, Highgate and West Norwood). This may disappoint devotees of the other three, with Abney Park and Nunhead relegated to entries within general chapters, and Tower Hamlets apparently omitted entirely. The guide includes a brief history of burial in London, a short glossary, and a very select list of further reading – just six titles. It is very much a guide's guide to the deceased, the author being a registered London Blue Badge Guide.
Is there room for another guide to London's dead? This is certainly more portable than Meller's guide; it packs in more pictures than Meller's; and the photographs are in colour – all 350 of them, including 23 full page illustrations. There is also much to celebrate within, with a wide range of famous people covered, along with their memorials. The scope of the guide is also impressive, ranging from St Paul's cathedral to many suburban parish churchyards.
The geographical approach has its merits, but since the index only covers names of the deceased, you need to know your geography and your Boroughs if you are looking for a particular site. This includes those readers looking for Abney Park (East London, London Borough of Hackney) and Nunhead (South-East London, London Borough of Southwark, covered in under two pages). However, since this is intended as a guide to the deceased, many readers may overlook this limitation. The geographical arrangement seems to reflect an overall bias towards north London. Another feature of this guide is there is virtually no reference to the history of each location or its buildings.
Out of the four Magnificent Seven cemeteries given their own chapters, my analysis shows that West Norwood is given the least coverage of them all: under half the names at Brompton and Highgate, and about a quarter of those for Kensal Green. There is a similar pattern in the photographic coverage.
Copyright © 2017 by John M. Clarke. All Rights Reserved