Historian of Brookwood Cemetery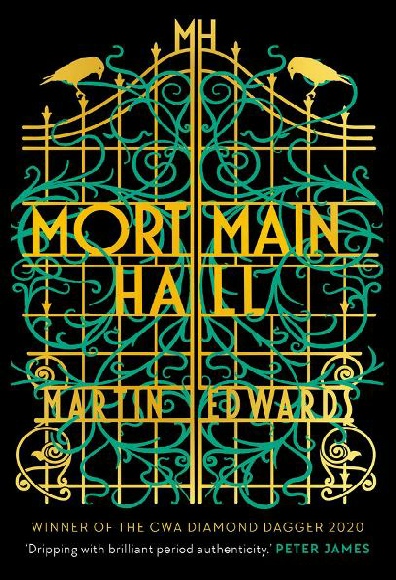 Mortmain Hall
by Martin Edwards
Published by Head of Zeus, 2020
ISBN 9781788546126
Price £18.99 (hardback)
ISBN 9781788546157
Price £8.99 (paperback)
This is the new murder mystery by Martin Edwards, an accomplished crime writer, and winner of the Crime Writers Association Diamond Dagger in 2020. The hardback edition appeared last April (during the first lockdown) and the paperback edition was published in December.
The book is set in the 1930s, the "golden age" of murder mysteries, and opens with a journey on the Necropolis Train. Grieving widows are a familiar sight on London's funeral train, so when an elegant young woman in a black veil boards the service, nobody guesses her true purpose.
But Rachel Savernake is not one of the mourners. She hopes to save a life – the life of a man who is supposed to be dead and in the grave. But then a suspicious death on the railway track spurs her on to investigate a sequence of baffling mysteries: a death in a blazing car; a killing in a seaside bungalow; a tragic drowning in a frozen lake. Rachel believes that the cases are connected – but what possible link can there be?
Rich, ruthless and obsessed with her own dark notions of justice, she will not rest until she has discovered the truth. To find the answers to her questions she joins a house party on the eerie and remote North Yorkshire coast at Mortmain Hall, an estate. Her inquiries are helped – and sometimes hindered – by the impetuous young journalist Jacob Flint and an eccentric female criminologist with a dangerous fascination with perfect crimes.
The first three chapters (and part of the fourth) can be read on Amazon ("Look inside"), which includes Rachel Savernake's journey on the Necropolis Train. Part of these chapters can also be downloaded as a free audio clip, also via Amazon, so you can sample the book before you buy. Mortmain Hall is available in hardback, paperback and kindle editions.
Copyright © 2021 by John M. Clarke. All Rights Reserved