2nd Lieutenant Rupert Price Hallowes VC MM (1881-1915)
Rupert Price Hallowes was the son of Frederick and Mary Hallowes, of Dan-y-Ffynnon, Port Talbot, South Wales. He was born in 1881 and educated at Haileybury College and joined the Artists' Rifles.
Hallowes won his medal for actions at Sanctuary Wood in the Ypres Salient, Belgium, between 25-30 September 1915. His citation from The London Gazette (issue 29371 of 16 November 1915) reads:
"For most conspicuous bravery and devotion to duty during the fighting at Hooge between 25th September and 1st October, 1915. Second Lieutenant Hallowes displayed throughout these days the greatest bravery and untiring energy, and set a magnificent example to his men during four heavy and prolonged bombardments. On more than one occasion he climbed up on the parapet, utterly regardless of danger, in order to put fresh heart into his men. He made daring reconnaissances of the German positions in our lines. When the supply of bombs was running short he went back under very heavy shell fire and brought up a fresh supply. Even after he was mortally wounded he continued to cheer those around him and to inspire them with fresh courage."
Rupert Hallowes died of his wounds on 30 September 1915, and is buried at Bedford House Cemetery, Zillebeke, near Ypres. His Victoria Cross, Military Cross, and other medals are on display at the National Army Museum.
Rupert Hallowes is also commemorated on the family grave in plot 84 at Brookwood Cemetery.
Rupert Hallowes was a sidesman, Secretary of the Parish's Men's Society and Scoutmaster in Port Talbot. He is the only person from Port Talbot to be awarded the VC. In honour of his memory two Clayton and Bell stained glass windows were commissioned depicting the Archangels Michael and Gabriel and situated in the Lady Chapel of St Theodore's Church, Port Talbot.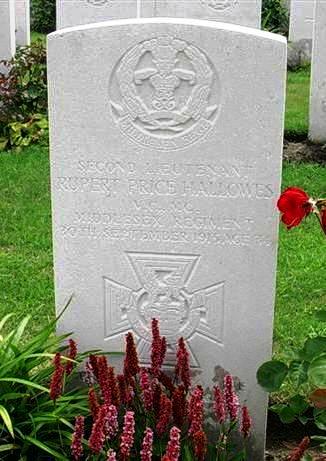 Memorial to Rupert Price Hallowes VC MC, Bedford House Cemetery
Copyright © 2007 by John M. Clarke All Rights Reserved