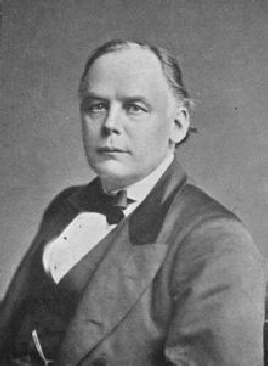 CHARLES BRADLAUGH is one of the most prominent nineteenth century politicians buried at Brookwood. Bradlaugh was an atheist, and championed such unpopular ideas as birth control, republicanism, reform, peace and anti-imperialism. Controversial and outspoken, his pen-name - "Iconoclast" - was well chosen. Despite the repugnance caused by his views, virtually all of his beliefs have since become commonplace. However, his views necessarily placed him in conflict with powerful interests, institutions and people. Such was the depth of feeling against him that he spent his whole life struggling against the establishment, a struggle which weakened his health and ultimately cost him his life.
Charles Bradlaugh was born at Hoxton on 26 September 1833. He soon developed as a fiercely independent individual and was subsequently forced to leave home because of religious differences with his family. In 1850 he enlisted in the 7th Dragoon Guards, partly to clear his debts. His family obtained his discharge (1853) and he returned to London. He obtained employment in a law office, and subsequently took over the common law department in the practice. His legal experience during this period provided detailed knowledge of the processes of the English legal system which he was to draw on many times in the future. In 1855 Bradlaugh married Susannah Hooper, but the marriage broke up in 1870; by 1877 Mrs Bradlaugh and two of their children had died, leaving behind the elder daughter, Hypatia. From 1860 Bradlaugh contributed articles to the National Reformer, the journal of the National Secular Society, under the pen name "Iconoclast". In 1862 he became the paper's editor and proprietor, and used this opportunity to promote many of his own ideas.
In 1876 a Bristol bookseller was prosecuted for selling copies of Dr Charles Knowlton's Fruits of Philosophy, a publication describing methods of birth control. On consenting to the destruction of the remaining stocks of the book, the bookseller was released. Bradlaugh, with his colleague, Mrs Annie Besant (1847-1933), decided to test the issue by producing their own edition of the booklet, and gave notice to the police that they were doing so. Both were arrested and released on bail whilst the copies were confiscated.
Their trial took place in June 1877 before the Lord Chief Justice. Bradlaugh conducted his own defence, arguing that many other books were available describing "family limitation"; meanwhile the prosecution alleged that, "this is a dirty, filthy book, and the test of it is that ... no decently educated English husband would allow his wife to have it." Strangely, the initiators of the prosecution were never revealed. The jury returned an ambiguous verdict: "... that the book in question is calculated to deprave public morals, but at the same time we entirely exonerate the defendants from any corrupt motives in publishing it", which the Lord Chief Justice had to treat as a guilty verdict. Both Bradlaugh and Besant were sentenced to 6 months' imprisonment and a £200 fine. They were released pending an appeal (February 1878), when the case collapsed on a legal technicality.
The effects of the trial were tremendous. Newspaper coverage necessarily advertised birth control; the existence of the book was made more widely known (and sales soared); attention was focused on methods of contraception; and all classes discovered that such information could be acquired legally and without hazard. All this directly influenced the birth rate in Britain, although to what extent this was true is difficult to determine. Nevertheless the crude birth rate fell from 35.5 per 1,000 (1871-5) to 31.3 per 1,000 (1886-90), and to 15.0 per 1,000 (1931-35).
Another important effect of the trial was the foundation of the Malthusian League, largely due to Bradlaugh's support and enthusiasm. This organisation also influenced the declining birth rate. In July 1877 the League was established in London as the first voluntary organisation in the world to promote family limitation as an effective answer to the problem of poverty. Dr Charles Robert Drysdale became its first President, and Mrs Besant was its first Secretary.
Bradlaugh's greatest battle now developed. In April 1880 he was elected as Liberal MP for Northampton. On 3 May he requested to affirm (rather than swear) the oath, since his atheism would make a nonsense of swearing the oath on the Bible. The Speaker, on his own authority, refused to allow this, and the matter was referred to a Select Committee. This group decided by a majority of one against Bradlaugh's claim. Bradlaugh inflamed the situation by declaring in a letter to The Times that he would not allow "an idle form" [ie: the oath] to interfere with his right to take his seat in Parliament. When he attempted to swear the oath (20 May) there was sensation and uproar in the House of Commons. On 2 July he took his seat after a motion was passed allowing him to affirm and sit in the Commons at his own risk. However, the legality of such a course was questioned and he was unseated. A bye-election took place, and Bradlaugh was re-elected on 9 April 1881. But Bradlaugh was once again refused entry to the House. So the "Bradlaugh case" rumbled on throughout this Parliament causing great embarrassment to Gladstone's government. One of the politicians who took great advantage of this continuing controversy was Lord Randolph Churchill and the so-called "Fourth Party".
The dispute was settled only when the new Conservative government took office under Lord Salisbury (November 1885). Bradlaugh, re-elected for the fifth time (25 November), was allowed to take his seat (13 January 1886) as the new Speaker refused to interfere or allow any objection.
In 1888 Bradlaugh was able to secure an Oaths Act which legalised affirmation in the House of Commons and in the law courts. He continued to serve Northampton as its MP until his death. The struggle, though ultimately successful, was achieved at a terrible cost. His daughter wrote that, "the five years' struggle, as his friends recognised, made him an old man; but the terrible and continuous strain of the night hours, added to undiminished daily work, carried on the process even more effectively; ... No physique could stand such a life. Often did he confess that he had 'burned the candle at both ends and in the middle';... it was plain he might have lived longer had his life been easier."
Bradlaugh died at his home, 20 Circus Road, St John's Wood, on 30 January 1891. On 2 February his coffin was taken to a private mortuary in the Necropolis Company's private station. There it was guarded over by a Marshal of the Secular Society. On 3 February the coffin was conveyed to Brookwood by the usual daily funeral train. Meanwhile over 5,000 people from all over the country and from all walks of life turned up and jammed the approach roads to Waterloo in an attempt to attend the funeral. During the afternoon, three special trains were provided by the London & South Western Railway Company for those wishing to travel down to Brookwood.
The funeral was notable for the absence of conventional mourning dress (only Mrs Besant arrived in black and heavily veiled), and the lack of any burial service. The mourners included the young David Lloyd George, and John Morley - Gladstone's great friend and colleague. Most of London's resident Indian population attended because Bradlaugh was sympathetic to the cause of Indian self-government, and was unofficially referred to as the "MP for India". Amongst this group was the young Mohandas Gandhi, and he witnessed another of the bizarre aspects of this unusual funeral. As Gandhi was returning from the graveside, and awaiting the return train to London, he overheard a heated argument that took place between a "champion atheist" and one of the clergymen present. All this probably took place on or near the platform of North Station.
Bradlaugh is buried in a family plot off Holly Avenue. His memorial was the first public testimonial to his memory. It comprised a bronze bust by the sculptor Mr F. Verheyden, which was placed on an attractive red granite pedestal. It cost £225, a sum raised absolutely spontaneously without a single appeal or request. Unfortunately the memorial as it survives is incomplete. During the night of 12th-13th September 1938, the heavy bronze bust was mysteriously removed. The incident was so timed to embarrass delegates of the International Congress of the World Union of Freethinkers, then convening in London, who were due to inspect the memorial later on 13th. It must have taken at least two men to remove the bust, but no trace of it was - or has - been found.
Further reading
Amstein, Walter L. The Bradlaugh Case. Oxford: Oxford University Press, 1965.
Chandrasekhar, S. A Dirty, Filthy Book. Berkeley: University of California Press, 1981. (Includes notes on the writings of Dr Charles Knowlton and Annie Besant on birth control, and an account of the Bradlaugh-Besant trial. The text includes definitive versions of the Fruits of Philosophy and two pamphlets on population control by Annie Besant.)
Ledbetter, Rosanna. A History of the Malthusian League 1877-1927. Columbus: Ohio State University Press, 1976. (Includes sections on the Bradlaugh-Besant trial, Charles Bradlaugh and Annie Besant, and a history of the League up to its dissolution.)
MacDonald, James Ramsay. Bradlaugh, Charles. In Lee S (Ed.) Dictionary of National Biography. 1901 Supplement, Vol. 1. London: Smith, Elder & Co, 1901. pp.248-50.
Tribe, David H. President Charles Bradlaugh MP. London: Elek, 1971.
[From Necropolis News, November 1993]
Copyright © 1993 by John M. Clarke All Rights Reserved