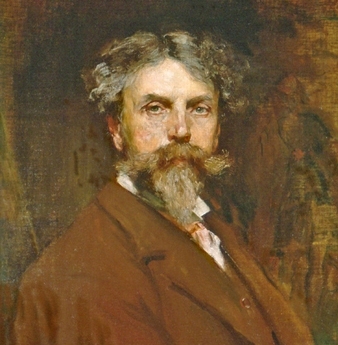 William Ewart Lockhart (1846-1900)
William Ewart Lockhart was one of the greatest Scottish painters of the Victorian period.
He learned to draw at Annan Academy and was accepted into training by the Royal Scottish Academy in 1860. By the next year, and still in his mid-teens, he had two paintings accepted for the Royal Scottish Academy Annual Exhibition.
By 1863 he had developed tuberculosis, and he was sent to Australia. His poor health meant that for the rest of his life he was obliged to spend winters abroad, often in Italy or Spain.
In 1871, he was elected an associate of the Royal Scottish Academy, and he was also an associate (1878) of the Royal Watercolour Society, and for some years a member of the Royal Scottish Watercolour Society. Lockhart was elected to full membership in the Royal Scottish Academy in 1878. After 1861, he continued exhibiting at the Royal Scottish Academy Annual Exhibition virtually every year until his death.
In 1884 he moved from Edinburgh to London. After he had conducted Queen Victoria round the Edinburgh International Exhibition (1886), she invited him to be the official artist for her Golden Jubilee service in the following year.
The commission for "The Jubilee Celebration in Westminster Abbey, June 21, 1887" took Lockhart three year to complete. The canvas measures ten feet by eight feet and contains 278 individual portraits, including those of Lockhart and his wife Mary (they can be found in the top right of the painting). The painting is one of the largest and most detailed pictures of a public event ever painted. Following its completion, Lockhart was awarded the Queen's Jubilee Medal, but not the knighthood he had anticipated.
However the royal commission did give him an entree into contemporary London high society, dramatically elevating his social standing. He also became a fashionable portrait artist and spent a large part of the last ten years of his life fulfilling these commissions in London and Scotland. A typical example is his portrait of the future Prime Minister Arthur J Balfour.
But Lockhart never really recovered from the strain of the royal commission, and his health continued to deteriorate. In January 1900 he was admitted to the Bethlem Hospital where he died on 9 February, just before his 54th birthday.
You can read more on William Ewart Lockhart in the Dictionary of National Biography (1901 supplement)
Copyright © 2017 by John M. Clarke All Rights Reserved