I am delighted to announce that having been out of print for many years, a new edition of my major guide to Brookwood Cemetery is now available.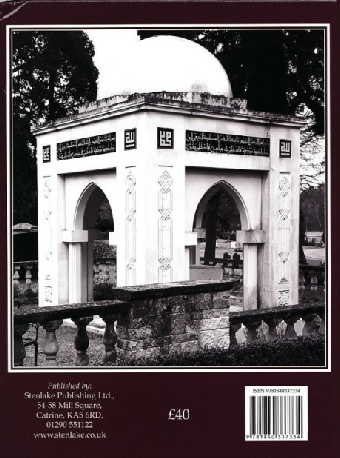 Originally published to celebrate the 150th anniversary of Brookwood Cemetery, London's Necropolis: A Guide to Brookwood Cemetery is the only major history and guide to Brookwood Cemetery.
Brookwood was the largest burial ground in the world when it was opened in 1854 by the London Necropolis & National Mausoleum Company. Designed on a massive scale with avenues of sequoia, its own private railway and majestic planting, Brookwood is one of Surrey's best-kept secrets.
The cemetery contains nearly 235,000 burials and although privately owned when the original edition appeared, it is now owned and managed by Woking Borough Council.
This is the long-awaited new and much revised edition of this in-depth reference work originally published by The History Press, second-hand copies of which have been commanding high prices for many years. This is a massive tome and is the 'last word' on this subject.
Nine chapters deal with specific areas or sections of the cemetery plus there are appendices on missing persons, the principal cemetery staff and burial statistics. The author brings the text to life with hundreds and hundreds of potted histories of the occupants. The editor of the book found himself going to Wikipedia to find out more about the colourful lives of those buried here. It may seem strange to observe that all human life is here, but as such a huge cemetery, containing thousands of the dead of a diverse metropolis, it has to be so.
London's Necropolis provides a history of the London Necropolis Company, a guide to the art and architecture of Brookwood Cemetery, and includes brief biographies of over 800 individuals of interest who have been buried there, reflecting all levels of a lost society.
Each chapter is supported by maps, and there are nearly 140 black and white photographs and line drawings to illustrate some of the most interesting memorials and cemetery structures. For the first time this edition identifies and describes all the mausoleums at Brookwood, including some that have been demolished.
Contents of the 2nd edition
Foreword by Julian W. S. Litten
Preface
Chapter 1: The London Necropolis Company and Brookwood Cemetery
Chapter 2: The Eastern Part of the Former Anglican Section
Chapter 3: St Cyprian's Avenue
Chapter 4: St Chad's and St George's Avenues
Chapter 5: St Margaret's Avenue and the 'Ring'
Chapter 6: The 'Gridiron'
Chapter 7: The Glades of Remembrance and the Cemetery Boundary
Chapter 8: The Eastern Part of the Former Nonconformist Section
Chapter 9: The Western Part of the Former Nonconformist Section
Chapter 10: The Military and Muslim Sections
Appendices
Notes
Bibliography
Index
* * * *
Some reviews of the second edition of London's Necropolis
From Pharos International, Summer 2019, p.14.
"This book holds much appeal for scholars, professionals in the funeral industry and cemetery enthusiasts alike."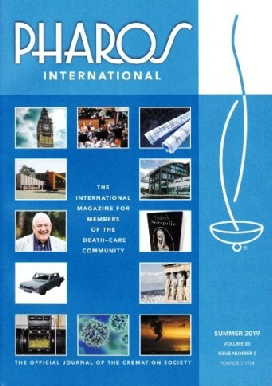 "This book documents the history of Brookwood Cemetery from its origins in the mid-nineteenth century as a vast metropolitan cemetery to serve all of London's dead for an indefinite period in the suburbs to the present day.
The opening chapter provides a detailed record of the cemetery and the London Necropolis Company who established it, with the subsequent chapters detailing a bewildering array of biographies of some of those interred at Brookwood in well researched detail, from anonymous pauper burials and those of criminals to the relics of saints and those associated with the monarchy. This book feels definitive in size and scope and is clearly a labour of love for its author who has extensively researched the cemetery and its records, as well as having conducted guided walks at the cemetery and been instrumental in setting up Brookwood Cemetery Society in 1992.
The book was originally published in 2004 to celebrate the 150th anniversary of the opening of Brookwood Cemetery - the largest burial ground in the UK - but the most recent publication is a revised version that includes recent key developments. In 2009, English Heritage upgraded Brookwood Cemetery's status to a Grade 1 Historic Park and Garden because Brookwood was deemed to be 'an extraordinary scheme on an entirely different scale to other cemeteries' (p51) and then, in 2014, Woking Borough Council took control of the cemetery and committed to an extensive restoration programme; 'Thus, 160 years after opening, Brookwood Cemetery passed into public ownership, albeit through a council-run corporation' (p52).
Equally remarkable is that Brookwood Cemetery lists 235,000 individuals on its burial registers; both a testament to the size and original ambition for the cemetery when it was first established in 1854 by the London Necropolis & National Mausoleum Company, for it was intended to become London's only cemetery, large enough to serve the capital forever. Brookwood Cemetery provides a window onto Victorian and Edwardian ambition and an extensive socrio-material history of the times and it is very apparent that John Clarke values this 'City of the Dead' because of this.
The enthusiasm and commitment he maintains for Brookwood Cemetery is in contrast to, as he notes in his Preface, our respect for such places until comparatively recently. He states that Victorian cemeteries have largely
been neglected because of a number of mid-late twentieth century social and cultural changes that have averted our attention from the value of cemeteries: 'burial is not as common as it once was; most families no longer visit or tend loved ones' graves; no longer do families invest in the maintenance of graves; should visiting be difficult, the dead are rarely respected or remembered, as persistent vandalism reveals; and cemetery managers are left with the problem of trying to maintain grounds against static or falling incomes, whilst being condemned for neglecting their charges by those who misunderstand the perilous economics of modern burial ground management' (p12). That said, it is with the efforts of the author and others who have dedicated themselves to writing detailed histories of Victorian cemeteries, that the potential for visitors to come back to these places m the 21st century to learn of and appreciate the Victorian celebration of death, may revive them. Certainly, I challenge anyone who reads this book to finish it and not want to immediately go to Brookwood Cemetery and explore the grounds for themselves. Importantly, these grounds were boldly designed to be served by a railway with a private station so that mourners and coffins could be conveyed to the cemetery by train, rather than by the traditional hearse and carriage procession.
Equally important to note is the involvement that Brookwood Cemetery had in the early days of the Cremation Society in Britain who turned their attention to Woking to build their first crematorium, Meanwhile, a keen advocate of Brookwood Cemetery, the surgeon, Francis Seymour Haden, wrote to The Times on several occasions to publically denounce cremation and advocate 'earth to earth' burial instead. For a brief period the London Necropolis Company held the patent rights for the 'earth-to-earth' coffins but then relinquished them, believing that these coffins should be made as widely available as possible, whilst continuing to promote the 'earth-to-earth' system as an alternative to cremation. So it is with some bitter irony that Brookwood Cemetery's decline as a place of burial, according to Julian Litten, is associated with the resistance of building a crematorium there. Julian Litten wrote the foreword to this book, praising John Clarke for successfully 'bringing the story of Brookwood to life' (p11) and what a story it is! This book holds much appeal for scholars, professionals in the funeral industry and cemetery enthusiasts alike.
(Reviewed by Dr Hannah Rumble)
* * * *
From Newsletter 94, Friends of West Norwood Cemetery, January 2019, pp. 12-13.
"It is no exaggeration to say that our knowledge of Brookwood owes much to the efforts of John Clarke, who has researched and championed it ceaselessly for over 40 years."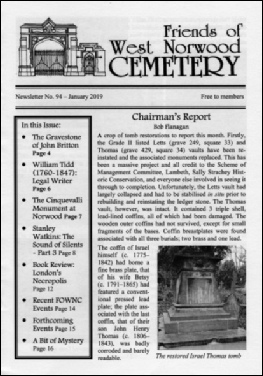 "This book is the definitive guide to Brookwood, the largest burial ground in the world when opened by the London Necropolis & National Mausoleum Company in 1854. Designed with avenues of sequoia and its own internal railway connected to the London and South Western Railway line to Southampton, funeral trains ran regularly from the Company's own station near Waterloo to stations within the cemetery until the 1940s. Now owned and managed by Woking Borough Council, the cemetery contains nearly 235,000 burials. In 1917 an area to the north of the cemetery was set aside for men and women of Commonwealth forces who died, many of battle wounds, in the London district. This site was further extended to accommodate Commonwealth casualties of the Second World War, and is now but one of several military cemeteries at Brookwood.
It is no exaggeration to say that our knowledge of Brookwood owes much to the efforts of FoWNC Deputy-chair John Clarke, who has researched and championed it ceaselessly for over 40 years. His book on the Necropolis Railway first published in 1983, for example, is now in its 4th edition, and I can add little to the praise heaped on the first edition of the volume now under review.
"The contrast with Norwood is best summarized by the observation that private burials (burials in private graves) did not reach 10% of total burials at Brookwood until the early 1900s, and 'pauper' burials (burials paid for from public funds) remained at 75% of annual burials until this time. There are some Norwood connections, however. Although John has found no evidence to support the widely-held view that William Tite was responsible for the landscaping and planting of the cemetery, Tite in consultation with Sir William Cubitt (grave 7,740, square 36), the Company's engineer, did design the original private Necropolis Station at York Street adjacent to Waterloo that opened in 1854.
As to individuals, the novelist Dennis Yates Wheatley (1897-1977) was cremated at Tooting, but for some reason his ashes were interred at Brookwood in the Glades of Remembrance. He is however commemorated on the Baker/Yates family monument at Norwood (grave 26,071, square 50). The ashes of Maria Stillman (1844-1927), daughter of Michael Spartali (1818/9 1914), owner of the Spartali mausoleum in the Greek enclosure at Norwood (grave 7,655, square 28), and her husband William James Stillman (1828-1901) are likewise interred at Brookwood (Plot 25). Maria was a noted beauty and a member of the Pre-Raphaelite circle.
One Brookwood burial that has always puzzled me is that of Allan Octavian Hume (1829-1912; plot 36). Hume settled in Upper Norwood after leaving India in 1894, where he had worked as an administrator. He was awarded the CB for services during the Indian Mutiny (1860). When he had retired in 1882 he helped found the Indian National Congress that was held in Bombay in 1885 and became its first general secretary. He was an expert on the birds of India and donated his collection of bird skins and eggs to the British Museum of Natural History in 1885. He also helped found and endowed the South London Botanical Institute on Norwood Road in 1910. Why then with his Norwood connections was Allan Octavian Hume CB he buried in deepest Surrey and not at Norwood?"
(Bob Flanagan)
* * * *
From the Ancient Monuments Society Newsletter, Autumn 2018, p.56.
"Published originally to celebrate the 150th anniversary of the cemetery, it has now been reprinted in a brand new edition. Brookwood was the largest burial ground in the world when it was opened in 1854 by the London Necropolis and National Mausoleum Company. Designed on a massive scale with avenues of sequoia, it had its own private railway. It contains nearly 235,000 burials and, although privately owned when the original edition appeared, it is now in the hands of Woking Borough Council. There is a history of the company, a guide to the art and architecture of the cemetery and brief biographies of over 800 individual who are buried there. For the first time this edition identifies and describes all the mausolea at Brookwood including some that have been demolished."