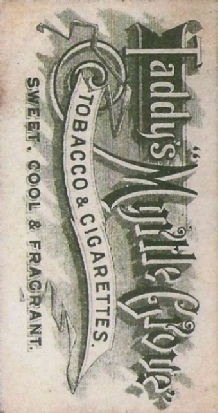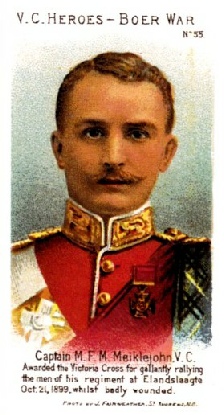 Major Matthew Fountaine Maury Meiklejohn VC (1870-1913)
Major Matthew Fountaine Maury Mieklejohn was educated at Madras College and Fettes College. He served with the Gordon Highlanders from 1891. And took part in the Chitral Relief Force (1895) and the Tirah Expedition (1897). Meiklejohn served in the South African War (1899-1902). He was awarded his Victoria Cross as a result of his bravery during the Battle of Elandslaagte on 21 October 1899.
His citation from The London Gazette (issue 27212 of 20 July 1900) reads:
"At the Battle of Elandslaagte on the 21st October, 1899, after the main Boer position had been captured, some men of the Gordon Highlanders, when about to assault a kopje in advance, were exposed to a heavy cross-fire and,
having lost their leaders, commenced to waver. Seeing this, Captain Meiklejohn rushed to the front and called on the Gordons to follow him. By his conspicuous bravery and fearless example, he rallied the men and led them
against the enemy's position, where he fell, desperately wounded in four places."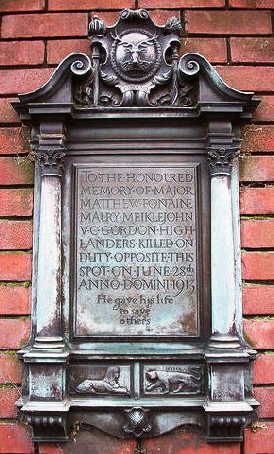 As a result of his wounds received during this action, his right hand was amputated.
Major Meiklejohn was killed in Hyde Park on 28th June 1913 when his horse was frightened by the salute during an OTC inspection. His horse galloped away towards a group of children. To avoid them, Meiklejohn managed to turn his horse against the railings of Rotten Row. He was thrown off and never regained consciousness. The Times commented that, "He thus gave his life for theirs and added one more to the long roll of his brave and unselfish acts."
A plaque was placed on the wall of Knightsbridge Barracks (shown left) with details of the incident along with the words, "He gave his life to save others".
His Victoria Cross and other medals are on display at the Gordon Highlanders Museum in Aberdeen.
Copyright © 2007 by John M. Clarke
All Rights Reserved