Historian of Brookwood Cemetery

Reviews of The Brookwood Necropolis Railway
The Brookwood Necropolis Railway by John M. Clarke; The Oakwood Press, Usk, Monmouthshire, fourth edition 2006; ISBN 085361 6558; A5, 192pp, £12.95; www.oak-woodpress.co.uk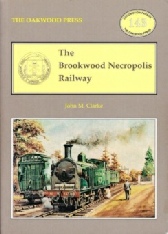 In the first edition of John Clarke's Brookwood Necropolis Railway, he commented in the preface that "although this may prove the most comprehensive account of the Necropolis branch to date, it should not be regarded as the final word on the subject". That was in 1983. Little did the author realise that, as a result of the quantity of new information that has appeared over the last 23 years, three more editions would be published, ever richer in detail, about "one of the most bizarre of British branch lines".
Following the structure of previous editions, John Clarke has integrated material from a number of new sources. These include Mark Wealthy's collection, and periodicals as diverse as Punch and The Undertakers' Journal. A considerable number of new images are also included. In addition, information held at the Surrey History Centre has been analysed to record the extent of usage of the railway's service.
All this has enabled the eight chapters to be greatly enlarged, and to include as many appendices. These include a brief description of at least seven other cemetery railway services and also four recent rail funerals (despite British Rail's ceasing to carry coffins on trains since 1988). The result is an astonishingly detailed book tracing the history of the "best known and most enduring" railway funeral service.
In the chapter entitled 'Operations: Specials and Incidents', there are vivid descriptions of the Necropolis train being used other than for transporting coffins to Brookwood for burial. In 1852, for instance, an excursion was made for persons wishing to see the proposed site of the necropolis, while from the late 1880s, the London Necropolis Company (LNC) provided transport to the newly opened Woking Crematorium. As this was identified as a lucrative source of income, the Company even permitted services to be conducted in their Westminster Bridge Road premises prior to the journey to Woking, Eleanor Marx and Friedrich Engels can be included among those served by the LNC.
John Clarke's interest in Brookwood and its railway extends back over 30 years. In 2004, his painstaking research led to the first authoritative guide to the cemetery and those buried within its 400 acres (London's Necropolis: A Guide to Brookwood Cemetery, Sutton Publishing).
All Oakwood publications possess a hallmark of quality and Brookwood Necropolis Railway is no exception. It is well designed and printed on art paper using a clear typeface. With 192 pages and the bonus of a fold-out map of the cemetery inside the back cover, the price of £12.95 makes this an exceedingly good value book. Written in a highly readable, neutral style and accompanied by a large number of high-resolution illustrations, Brookwood Necropolis Railway will be welcomed by a wide audience. Those with an interest in railways, social history, cemeteries, and the funeral industry will find appeal in the story behind a fascinating railway service which, in the author's words, "We shall not see its like again".
Brian Parsons
From The Friends of Kensal Green Cemetery Magazine, Issue 44, Winter 2007, pp.17-18.
The Brookwood Necropolis Railway by John M Clarke.
Edition 4, 2006. The Oakwood Press Locomotion Papers No. 143, 192 pp, £12.95.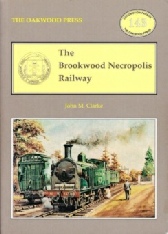 John Clarke will be well known to FOWNC members for his tireless work over the years in researching and publicizing Brookwood Cemetery. His recent book London's Necropolis. A Guide to Brookwood Cemetery (see Newsletter 50, May 2004) has been followed by a further, expanded edition (an extra 64 pages) of his classic book on the Necropolis Railway, the London terminus of which was at Waterloo within what is now the London Borough of Lambeth. At the other end of the line there were two stations, one in the Nonconformist section and another for Anglicans, both with associated chapels. There was also a masonry works siding. Even after death class distinctions were maintained with first, second, or third class coffin tickets available (single only, of course). Perhaps surprisingly, both cemetery stations included licensed premises and it is said that notices were displayed stating 'Spirits served here'!
What is new in this edition? Well, the extra material includes accounts of the first offices at York Street (now Leake Street), Waterloo, and details of numbers of tickets issued, which has enabled an analysis of traffic 1921-40 to be performed. New illustrations include two views of Brookwood station ca. 1905, a headstone featuring Beattie 2-4-0 Firebrand, and a portrait of Joseph Porter, who is said to have driven the first train into the cemetery.
I confess to having much enjoyed reading the second edition of this book when FOWNC was founded in 1990, and can recommend this new edition as a worthy and erudite successor, combining as it does much useful information about Brookwood Cemetery itself with the story of its pioneering railway service.
Bob Flanagan
From The Friends of West Norwood Cemetery Newsletter, No. 58, January 2007, p.13.