These notes provide an interesting example of how information about deceased at Brookwood can crop up at any time and any place.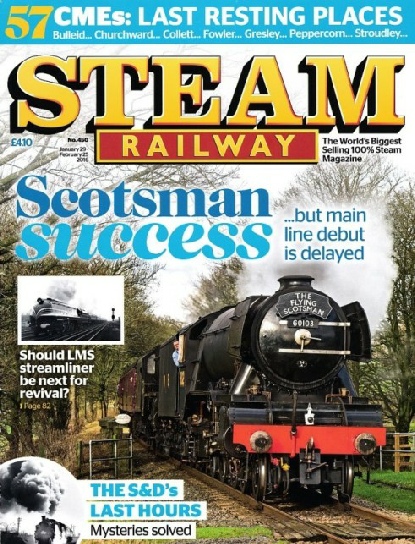 In early 2016 I was flicking through the January-February issue of the railway magazine Steam Railway in my local newsagents. What had caught my eye was not the cover photograph of the recent successful steaming of the Flying Scotsman, but the banner headline "57 CMEs: Last Resting Places". [1] Compiled by Stephen Walsh and the editorial team at Steam Railway, the article aimed to record the final resting places of all famous locomotive engineers. As the article declared, "We revere steam locomotives, but what about their creators? Steam Railway has compiled this list of the great men – their birthplaces, their railways and where they died."
The article included a map of England, Scotland and Wales showing the locations of these graves. Unfortunately the map included several errors and a revised version was made available via the Steam Railway website. [2] The map showed that the vast majority of deceased locomotive engineers were buried in England. The most northerly burial was that of Thomas Heywood (1877-1953), formerly Locomotive Superintendent of the Glasgow & South Western Railway between 1914-1923, who is buried in the Old Cemetery at Inverurie. The most southerly grave was that of Francis Trevithick (1812-1877), formerly the Locomotive Superintendent of the Grand Junction Railway between 1841-1846, and who is buried in Penzance Cemetery.
Stephen Walsh, a reader of the magazine with an interest in discovering the final resting places of famous engineers, pooled his expertise with the editorial team who attempted to fill the gaps in his research. In this they were unsuccessful in that the article ended with six CMEs that the Steam Railway team had been unable to locate burial details for. At the time these were: Lawson Billington (died 1954), Charles Fairburn (died 1945), Sir Vincent Raven (died 1934), James Stirling (died 1917), Robert Whitelegg (died 1957) and Thomas Whitelegg (died 1911).
I was intrigued enough to check these details in the burial registers held at the Surrey History Centre, since three of the engineers had died in London. [3] I was somewhat surprised to discover that although none of these three were buried at Brookwood, one of the other names was. This was Sir Vincent Raven. My surprise was caused by the fact that he had died whilst on holiday in Suffolk, and since he hailed from Norfolk, I assumed (as indeed had many others) that he was buried in East Anglia. A call to the Cemetery Office confirmed that Sir Vincent was buried in the cemetery off St Mark's Avenue.
Armed with this confirmation, I next contacted the magazine to assist with their research. Tom Bright, the magazine's News & Features writer, replied by confirming this was the "biggest name on the list" whose burial details had thus far not been traced. He also told me that the magazine's own investigations, and correspondence with Peter Grafton (author of a recent biography of Sir Vincent Raven [4]), and even with Raven's descendants, had failed to solve this mystery.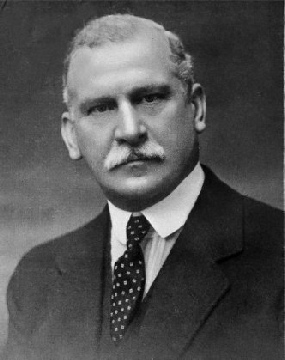 Sir Vincent Raven (1859-1934) was CME of the North Eastern Railway between 1910-1922. Peter Grafton's biography argues that Raven was "arguably, one of the far-sighted – if not the most far-sighted – of the Victorian railway engineers". Whilst his work on steam locomotives was overshadowed by George Jackson Churchward of the Great Western Railway, and by Sir Nigel Gresley on the London & North Eastern Railway, in his ideas on electric traction, Raven's vision stood out. He was a great advocate for electrification. During his period as CME he electrified a section of the North Eastern Railway between Shildon and Newport with overhead wires supplying current at 1,500 volts DC. He also planned the electrification of the main line from York to Newcastle on similar principles. This plan was abandoned following the Railway "Grouping" in 1923 when the North Eastern Railway was absorbed into the new London & North Eastern Railway Company.
An update to the original article was subsequently published in the February-March 2016 issue of Steam Railway which included the following comments:
Within days of publishing the first CMEs feature we received responses that have enabled us to fill in many of the blanks where details about the lives and deaths of this country's most eminent engineers were scarce.
Perhaps the biggest riddle we have solved is the final resting place of Sir Vincent Raven. The story behind the interment of the North Eastern Railway CME alone justifies our investigation into a subject area that hitherto has remained largely unexplored.
Peter Grafton, author of a biography on Raven, tells us he spent many hours with the designer's remaining relatives, but was still unable to determine the location of his grave.
Peter told Steam Railway that Raven: "left specific instructions that he was to be cremated and that there was to be no flowers. They – the family – had no idea which crematorium was used or what became of the ashes."
It seemed Sir Vincent Raven was lost to history until we received further information from John Clarke, author of The Brookwood Necropolis Railway, confirming that Raven has a memorial stone in Brookwood Cemetery in Surrey.
The discovery of the engineer's grave raises two issues. The first is that the CME's gravestone is partly buried in undergrowth, and that it is now time to make it a memorial more becoming of his status. The second, and a question, is why would Raven, born in Norfolk, who was associated with the North-East of England and died in Felixstowe, be interred in Surrey?
The answer to the second question is that Sir Vincent Raven stipulated in his will that his body should be cremated. This took place at Ipswich Crematorium on 17 February 1934. [5] His ashes were then taken back to London whilst arrangements were made for their subsequent burial at Brookwood. What we don't know is why his immediate family selected a plot at Brookwood for the reception of his ashes. Was it due to the railway connection? Did they have other friends buried there? Was it the convenience of visiting from central London? These questions are unlikely to be answered now. Thus, shortly afterwards, Raven's ashes were interred in the cemetery. A kerbed memorial with recumbent cross was also erected. His inscription is on the right-hand kerb.
Study of the memorial also provides additional information and a further link to another famous CME. For there are two further burials in the grave. The first is Raven's widow, Lady Gifford Allen, née Crichton. They were married in 1883 and had five children. After her husband's death she returned to the north east of England, and also spent time with her daughters and her surviving son Norman, who lived in London. Lady Raven died in a London nursing home in August 1937.
Secondly there are the ashes of their second daughter, Edith Guendolen ('Guen'), who was born in 1884. She married another future CME, none other than Edward Thompson (1881-1954).
Edward Thompson worked on the North Eastern, Great Northern, and London & North Eastern Railways before succeeding Sir Nigel Gresley as CME of the LNER in 1941. Thompson embarked on restocking the company's locomotive fleet with a new range of (his) standard designs. His wife, Guendolen, had died in 1938 at the family home in Darlington. He never remarried. Following his retirement in 1946, Edward Thompson moved to Kent. He died in Wrexham in 1954 and was cremated there.
Notes
[1] CMEs = Chief Mechanical Engineers.
[2] A revised and updated version of the map appeared with the second article, published in Steam Railway February-March 2016.
[3] Charles Fairburn died in Whitechapel, Robert Whitelegg died in Chelsea, and Thomas Whitelegg died in Highgate.
[4] Grafton, Peter. Sir Vincent Raven and the North Eastern Railway. Usk: The Oakwood Press, 2005.
[5] I am very grateful to Janice Gloyne, Bereavement Officer with Ipswich Borough Council, for confirming these details.
Further Reading
Everett, Andrew. Sir Vincent Raven: North Eastern Railway Locomotive Engineer. Stroud: The History Press, 2006.
Grafton, Peter. Sir Vincent Raven and the North Eastern Railway. Usk: The Oakwood Press, 2005.
Steam Railway. "Engineers at Rest". Steam Railway, No. 450, January-February 2016, pp. 48-54.
Steam Railway. "Engineers at Rest". Steam Railway, No. 451, February-March 2016, pp. 62-65.
Steam Railway. "Mailbag: CMEs at Rest: SR readers add more names". Steam Railway, No. 452, March-April 2016, pp. 98-99.
Copyright © 2018 by John M. Clarke All Rights Reserved