G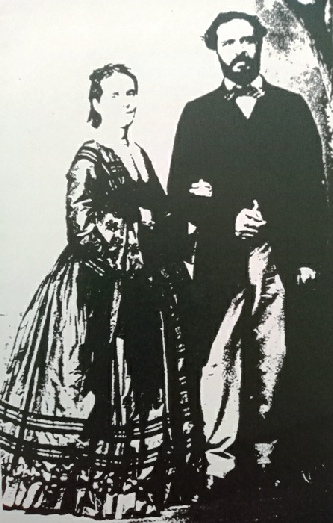 ustav Ritter von Franck was born on 22 March 1807 in Vienna. He was the second oldest of seven sons of the wealthy banker and merchant Johann Jakob Ritter von Franck and his wife Anna Maria, nee Graumann.
Dr Gustav von Franck and his wife Sophie in London, c1858. © Christina Rommel-Gerbaudo
The father's side of the Von Franck family originated from Mulhouse, which was, at that time, part of the Swiss Confederation. On the 8 November 1771, Gustav's grandfather, Johann Jakob Franck, a patrician and a member of the Grand Council of the city of Mulhouse, married Rosina von Fries, who was thirteen years younger and the daughter of Baron Philipp von Fries, whose brother, Johann von Fries, was regarded as one of the richest men of his time. Johann Jakob Franck moved with his wife to Austria and bought himself into the tobacco business there. The Empress Maria Theresia elevated him to Knighthood for his activities in this sphere and, from then on, Johann Jakob and all his heirs were permitted to use the title "Von Franck" and display a coat of arms.
Franck's father, Johann Jakob von Franck, a wholesale dealer, banker and art lover, inherited his grandfather's wealth and his title. The Von Franck household was at the centre of artistic and intellectual life in Vienna. Literary figures and musicians frequented the household, among whom Ludwig van Beethoven was a welcome guest during his stay in Vienna. Ludwig van Beethoven was the most well known pianist in Vienna at that time and he dedicated his sonata A-major, Opus 101 to Baroness Dorothea von Ertmann, an aunt of Gustav on his mother's side and one of Beethoven's pupils.
Gustav, a handsome young man with blue-grey eyes and blond hair, had many talents besides writing. He studied philosophy in Vienna and music and painting in Munich for a certain period of time. As a violinist he attained such proficiency that his playing was compared to that of Paganini. As a painter, especially his altar-piece in the Lutheran church at Athens is known.
In 1829 he received a Doctorate in Law in Padua. During his university career he gave many striking illustrations of the liberal bent of his mind, and among the theses selected by him on taking his degree was a powerful argument against the morality of capital punishment and the excessive severity of the criminal laws of Austria.
"… he adopted those liberal views of human rights that he retained till death, we may mention that amongst the theses which he had to sustain on obtaining his degree of Doctor of Laws … we find the two following: 'Society has no right to inflict capital punishment or to take away human life under pretence of self-defence', 'Excessive severity of criminal laws always tends to defeat its own purpose'. (The Era, 15 January 1860).
But he exercised his profession as an advocate for just several months since he was financially independent after the early death of his father. Thereafter, he was active exclusively as an author and publisher. His literary output consisted mainly of plays, comedies, tragedies and poetry; but he also wrote an autobiographical novel, journalistic pieces and revolutionary articles.
In 1842, whilst he was the Theater Director at the German Theatre in Pest (nowadays a part of Budapest), he met his wife-to-be, the opera singer Sophie Wirnser. They had one daughter, Melanie von Franck, in 1844.
Because of his revolutionary activities - he was one of the chief actors in the Vienna rising of 1848 and he was made Commander-in-Chief of the Garde Mobile as well as chosen as the special aide-de-camp of General Bem - Gustav had to flee Austria in 1848 and he then tried to establish himself in Leipzig and to publish a newspaper, the Wiener Boten (the Vienna Herald).
On the pretext of a legal action against his paper Gustav von Franck was arrested and threatened with extradition to Austria. His wife, Sophie, succeeded in getting him freed from the prison in Leipzig. An account of his adventurous flight to England was published later in the journal, "The Welcome Guest", where he wrote about his escape:
"… On the right and left of this long corridor were the Offices of Customs. The first door on the left of this grating led to the lodging of the Keeper of the building, an official whose duty it was to watch the corridor and the offices. It was through this grating, according to my wife's plan, that I was to escape. She had had the courage to take an impression of the keyhole, by means of a paste expressly prepared. From this impression of the shape in paste, a very clever locksmith, who was devoted to the cause for which I suffered, had made a key, which, as he hoped, would open the principal lock." (The Welcome Guest, 19 November 1859)
Gustav fled via Holland to England, where he subsequently settled. He survived at first working as an art teacher and portrait painter. A year later his wife and daughter followed him in exile. Then, after initial difficulties, Franck succeeded in gaining a reputation as a playwright. In collaboration with William and Robert Brough he put on two comedies at the Haymarket and at the Lyceum and critics at the time acclaimed the popularity of "A Tale of a Coat" and "Kicks and Halfpence".
Franck was also a founder member of the Savage Club, in Whitehall Place in London, and he belonged to a circle of German speaking immigrants, who lived in exile in England and he was friendly with the Brough brothers, Bayle St. John and others. His daughter wrote in her memoirs, that they spent several pleasant evenings in company of the Kinkel family.
Despite of his amnesty in 1851, Gustav preferred to remain in London with his family. G.L.M. Strauss, an acquaintance of Gustav, wrote later in his Reminiscences Of An Old Bohemian about Dr. Franck: "… and had Windischgrätz ... been able to catch him, he would have had him shot without mercy, the same as poor Messenhauser and other patriots."
Gustav von Franck died suddenly and unexpectedly on the 8 of January 1860; however, not by suicide as is reported in several literature lexicons, but from a physiological complaint. He was laid to rest in Brookwood Cemetery in the grave of his infant son Percy who had died aged 3 months on the 30 June 1859 and who was buried on 13 July 1859. Unfortunately the memorial has collapsed but is identifiable by its grave number.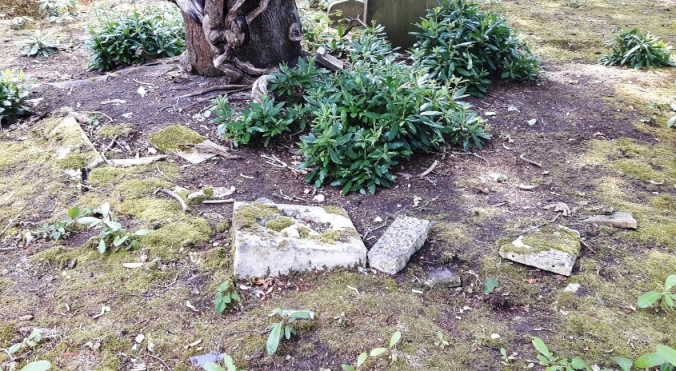 Gustav's wife Sophie and daughter Melanie, returned to Germany via France three years later in 1864. A part of the Franck family moved from Vienna to Graz inter alia Moritz Ritter von Franck (Mayor of Graz) and Alfred Ritter von Franck (painter and arts professor). His oldest brother Karl von Franck (Minister of War and Politician) died in Paris in 1867.
Christina Rommel-Gerbaudo
(Reproduced here with permission)
Copyright © 2021 by John M. Clarke. All Rights Reserved