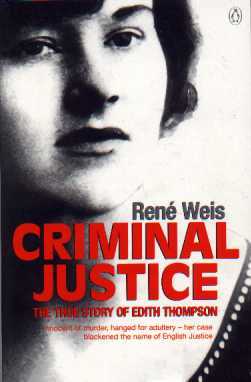 Criminal Justice: the True Story of Edith Thompson
by René Weis
Published by Penguin Books, 2001
ISBN 0140294627
Price £6.99 (paperback)
This book is a revised and updated edition of René Weis's definitive biography of Mrs. Thompson, containing many hitherto unseen additional photographs added since it was originally published in 1988. It was reissued as a paperback in 1990 and has since been out of print. The imminent release of "Another Life" - a film about her life and death, has prompted the publication of this new edition.
The main text of the book, which covers Mrs. Thompson's life and death in great detail, remains unaltered from the 1990 edition. However, René Weis has added a new Preface which is both masterly and moving. It begins with an account of the special service in Brookwood Cemetery on 13th November 1993, including some fine descriptions of Brookwood and reflections on its similarity with Wanstead Park that Edith knew so well from her childhood. We then move back in time to retrace and readdress some of the issues raised in the main part of the book. Much of this commentary is very revealing and adds depth to our understanding of Mrs. Thompson. We learn more of Avis Graydon (her sister), by the interviews with her that were recorded by Mrs. Audrey Russell. René Weis has also tracked down more contemporary accounts of the case and its aftermath, including an article published in 1924 by the hangman, sympathetic ones written by friends, and more offensive accounts by Richard Thompson (Percy Thompson's brother). Reference is also made to developments since 1990. This includes the placing of the permanent memorial to Mrs. Thompson at Brookwood, where the Brookwood Cemetery Society is praised for becoming the "driving force" behind this project. The Preface concludes with a newly-discovered letter written by Edith in Holloway Prison on 23rd December 1922, and a letter from her mother describing her very last visit to the Prison after the execution.
Two short quotations from the new Preface serve to illustrate the need to "go the extra distance" and secure a full pardon through the Criminal Cases Review Commission.
"Throughout the proceedings of the Winter months of 1922/3, the Home Office, the Prison Commission, and the judiciary had taken the view that Edith Thompson's life rated as little more than disposable waste. As Avis [Graydon] noted bitterly fifty years later 'to think that these people, Christmas time, they hadn't time to bother with her, over the appeal. They just hadn't got time to bother with her. '"
"The spectacle of Edith Thompson's last moment inspires outrage even now, not least because it was grotesquely gendered: five men physically manhandling a young woman to kill her by law, with four other men and two women looking on. The alleged immorality of Edith's correspondence pales into insignificance when contrasted with such a scene."
And finally, the verdict of posterity:
"Edith's friends would be proved wrong on [their] fear of how Edith Thompson would be reported by posterity. The vast literature on Bywaters and Thompson, from the 1920's to the present day, would be virtually unanimous in proclaiming her innocence."
RIP.
This book is now freely available on the official Edith Thompson website.
Copyright © 2001 by John M. Clarke. All Rights Reserved