Historian of Brookwood Cemetery

Edgar Thomas Inkson VC (1872-1947)
Edgar Thomas Inkson was born at Naini Tal, India, on 5 April 1872. He was educated at the Edinburgh Collegiate School and at University College London.
He joined the Royal Army Medical Corps as a Lieutenant in 1899. He served in South Africa during 1899-1904. Inkson was Regimental Medical Officer with three batteries of the Royal Field Artillery.
He was present at the battle of Colenso and the following battle of the Tugela Heights where he won his VC for carrying an injured man to safety at Hart's Hill. His citation from The London Gazette (issue 27266 of 15 January 1901) reads:
"On the 24th February, 1900, Lieutenant Inkson carried Second Lieutenant Devenish (who was severely wounded and unable to walk) for three or four hundred yards under a very heavy fire to a place of safety. The ground over which Lieutenant Inkson had to move was much exposed, there being no cover available."
Inkson also saw further action with the 27th Royal Inniskilling Fusiliers at Vaalkrantz, Spion Kop, Pieter's Hill, the relief of Ladysmith, and the battle of Roydam. He also served during the First World War and was awarded the DSO in 1917. Inkson retired in 1926.
His medals are on display in the the Army Medical Services Museum, Mytchett, Surrey.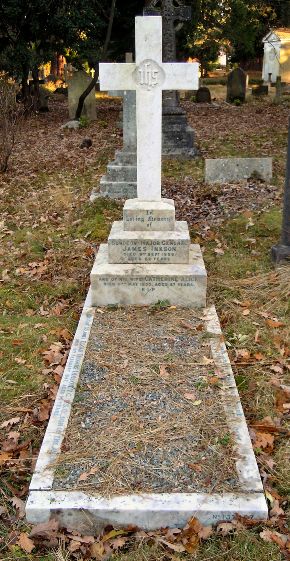 The grave of Edgar Thomas Inkson VC, in plot 74
Copyright © 2009 by John M. Clarke All Rights Reserved