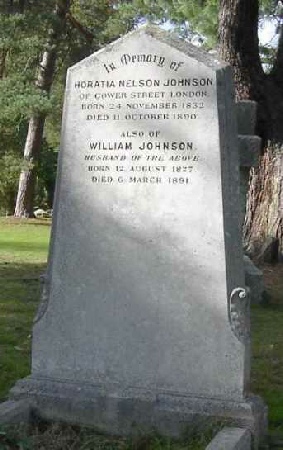 An unassuming family grave in plot 26 at Brookwood contains the mortal remains of one of Lord Nelson's grand-daughters.
Horatia Nelson Johnson was born on 24th November 1832. She was the seventh of nine children and was named after her mother, Horatia Nelson (1801-1881), Nelson's child by Emma Hamilton. Her father was the Rev. Philip Ward (1795-1859).
Philip Ward first met Horatia in 1819 at Burnham in Norfolk, and they were subsequently married there in February 1822. The marriage service was conducted by Horatia's uncle, the Rev William Bolton (1754-1840).
At first the newly wed couple lived in Burnham. In 1822 their first child, Horatio Nelson, was born. In 1823 the family moved to Stanhoe where their second child, Eleanor Philipa, was born in 1824. The family then moved to a better position at Bircham Newton where their third child, Marmaduke Philip Smyth was born in 1825. Three other children followed: John James Stephens (born 1827, but who sadly died in 1829), Nelson (born 1828) [1], and William George (born 1830).
In 1830 the family moved to Tenterden in Kent when Philip Ward was appointed Vicar of St Mildred's Church. Four further children were born there: Edmund (born 1832, but who died the following year), Horatia (the subject of this article, born 1832), Philip (born 1834), and Caroline Mary (born 1836).
The young Horatia Ward had recovered from cholera aged 13 and grew into an exceptionally beautiful young woman. She "grew up blooming and beautiful; in fact, she was so charming to look at that the farmers' daughters, her contemporaries, could not take their eyes off her at church. . . . Horatia had inherited the abundant chestnut hair and the vivid colouring of her maternal grandmother, which together with much else of grace and sweetness that her grandmother had never known made her irrestible." [2]
Like her brother Nelson would do so in Pinner, Horatia met her future partner through cricket. Nelson had set up house in Hatfield with two fellow law clerks from the solicitors in Lincoln's Inn where they all worked. His two friends were Thomas Attree and William Johnson. The house at Hatfield was somewhere for his parents to stay on business trips and also provided a holiday home for his sisters. William Johnson, who was born in 1827 and was therefore five years younger than his friend Horatio, also visited Tenterden at weekends for the cricket, for both he and Nelson shared a passion for the game.
In due course William set up on his own in New Inn as a solicitor, and he then proposed to Horatia. They were married in Tenterden on 17 August 1858. Horatia's brother Horace travelled over from Radstock to perform the service, thereby allowing Rev. Philip Ward to give his daughter away. In the following year the Rev. Ward died at Tenterden aged 63, and was buried in the churchyard there. After his death, his widow had to leave the Vicarage to make way for her husband's successor. She was not unwilling to move on since in the wake of Philip's death, her daughter Caroline also passed away following a riding accident.
Most of the family had gone their separate ways, with the exception of Eleanor. Horatia Ward's two eldest sons had become Rector of Radstock (Horatio, otherwise known as Horace) and a Surgeon in the Royal Navy in the East India and China stations (Marmaduke). Meanwhile Nelson moved to Pinner in the spring of 1859 and his mother moved there to join him. Despite several house moves in Pinner he remained there and looked after his mother for the rest of her life. Through his love of cricket he met George Bird and subsequently married his daughter, Jessie Bird, in 1864. Horatia Ward did not die until 1881 insisting to the end that although Lord Nelson was undoubtedly her father, but denying that Emma Hamilton was her mother.[3] She was buried in Paine's Lane Cemetery, Pinner.
William and Horatia moved first to 3 Frederick Place, off the Gray's Inn Road. Later they moved to 6 Gower Street London. They were joined by Marmaduke after their mother's death in 1881. Previously, after his appointment as Inspector of Hospitals & Fleets in Home Waters, he had lived in Pinner with his mother. Now Marmaduke sold and divided for the benefit of the family all the furniture and other effects left under their mother's will. Marmaduke was provided with his own sitting room and bedroom in Gower Street. He died in 1886 whilst visiting his brother in Radstock and is buried in the churchyard there. He was joined by his brother in 1888.
Horatia and William had several children. First was William Horatio (1859-?). Next came Philip, who was born in April 1861, a frail boy who was largely brought up in Pinner. He later attended Epsom College and graduated from Edinburgh University. He did not die until 1948. A daughter, Marjorie, died aged only 6.
Horatia inherited her sisters' pensions provided under the Civil List and received the full £300 per year until her death on 11 October 1890. She is buried with her husband William, who died on 6 March in the following year.
None of their children appear to be buried at Brookwood. However the group of four graves provide some interesting family and other links. To the left of Horatia and William's grave is the same style of headstone commemorating members of William's brother's family.[4] Since his brother Henry died in 1878 it is clear that this was the first of this group of memorials to be erected, and it is quite possible that William and Horatia decided to be buried here having visited the cemetery for Henry's funeral and through subsequent visits.
To the right of Horatia and William's grave is a cross memorial commemorating William's great friend Thomas Attree and his second wife, Susannah, who was one of William's sisters.[5] The left hand grave in this group commemorates John Senior,[6] whose relationship to the others is unclear, although since his memorial is of the same design as Thomas Attree's, it is possible that he was Thomas's brother-in-law.
Notes
Copyright © 2005 by John M. Clarke All Rights Reserved