Ross Lowis Mangles VC (1833-1905)
Born in Calcutta in 1833, Ross Mangles joined the Bengal Civil Service in 1853 and served as Assistant Magistrate at Patna until 1857, and after the Arrah action as Magistrate, Chunparun District, North Behar. He is one of only five civilians to be awarded the Victoria Cross.
The siege of Arrah, though on a small scale, is one of the great actions of the Indian Mutiny and this tiny garrison managed to hold out and inflict severe casualties on the vastly superior number of rebels, until finally relieved on the 2 August 1857. Strangely, however, there were no awards for this heroic defence but two well deserved Crosses were given for actions during a poorly managed and finally disastrous relief attempt on the 29-30 July 1857.
It was the recommendation by Sir James Outram for the award Victoria Crosses for two civilians, Mr. William McDonell and Ross Mangles, both of the Bengal Civil Service, which was rejected until the Governor-General, Lord Canning, had made emphatic representations to London that led to the Royal Warrant of 10 August 1858 allowing awards to civilians.
His citation from The London Gazette (issue 22283 of 8 July 1859) reads:
"Mr Mangles volunteered and served with the Force, consisting of detachments of Her Majesty's 10th and 37th Regiments, and some Native Troops, despatched to the relief of Arrah, in July 1857, under the Command of Captain Dunbar of the 10th Regiment. The Force fell into an Ambuscade on the night of the 29th of July 1857, and during the retreat on the next morning, Mr Mangles, with signal gallantry and generous self-devotion, and notwithstanding that he himself had been previously wounded, carried for several miles out of action a wounded soldier of Her Majesty's 37th Regiment, after binding up his wounds under a murderous fire, which killed or wounded almost the whole detachment; and he bore him in safety to the boats."
Ross Mangles was on sick leave in England from September 1858 to January 1860 and during this period was able to attend Windsor Castle to be invested with his Victoria Cross by Queen Victoria on 4 January 1860.
He retired from the Indian Civil Service in 1883 and returned to England. Ross Mangles died on the 28 February 1905 in Pirbright, Surrey, and was buried in Brookwood Cemetery. His Victoria Cross is displayed at the National Army Museum.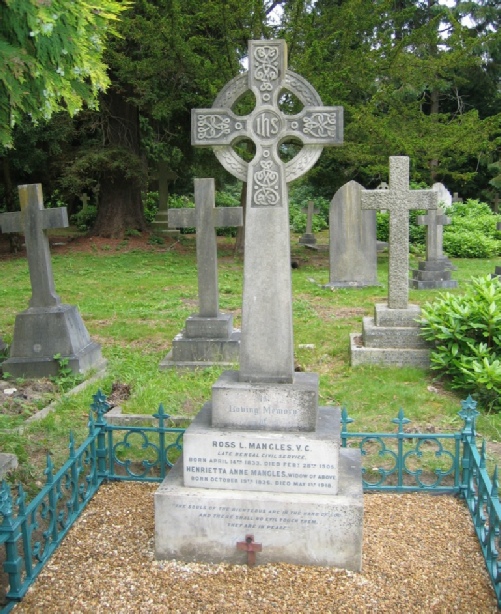 Copyright © 2009 by John M. Clarke All Rights Reserved