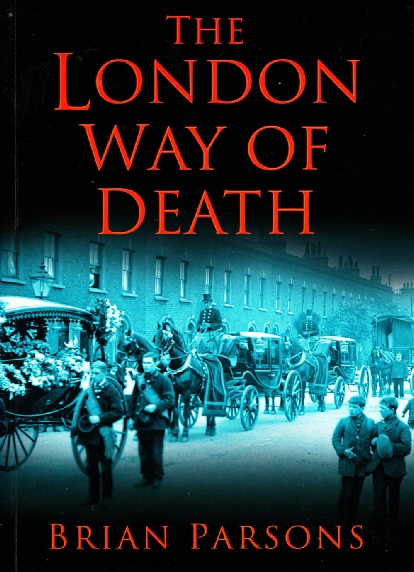 The London Way of Death
by Brian Parsons
Published by Sutton Publishing, 2001
ISBN 0750925396
Price £10.99 (paperback)
This book surveys how London's dead have reached their final resting place. It is the first book to focus on this, and to brilliantly illustrate it by an astonishing selection of contemporary photographs. The introductory chapter sets the scene, whilst other sections cover royal funerals, the place of burial and cremation, funerals in London, the funeral industry, funeral vehicles, and the Frederick W. Paine story.
Commendably, Brian Parsons gives much space to the unusual and ordinary in this pictorial survey. Under royal funerals, you can see pictures relating to the funeral of the Duke of Cambridge (died 1904) alongside the more familiar ones of Queen Victoria, Edward VII and George VI. Elsewhere may be found illustrations dealing with the obsequies of Arthur Sullivan, Baroness Burdett-Coutts, Dan Leno, Dr. Bamardo, Sir Henry Irving, Sir Nripendra Narayan (the Maharajah of Cooch Behar), Sir George Livesey, General Booth, Geoffrey England, Ivy Malyon, Edith Cavell, the Unknown Warrior, Lord Northcliffe, Andrew Bonar Law, Emmeline Pankhurst, Rev. Herbert Ryle, Charlie Brown, Rudyard Kipling, William McKeown, Tom Famdon, George Lansbury, Sir Winston Churchill, Cardinal Godfrey and Bernie Grant. It also includes more ordinary folk like the fireman, costermonger, greengrocer, railwayman, and bus conductor.
All forms of funerary transport are covered, including horse-drawn vehicles, cars, trains, hand biers, and ships (the scattering of Lord Morrison's ashes in the Thames is one of the more remarkable pictures in this book). Brookwood Cemetery is mentioned in several places, and by a number of photographs, some of which are new to the reviewer. These include the grave of Lord Sherbrooke c.1906, and two wonderful views of the massive London street procession for Father Stanton (died 1913). There are several references and illustrations of Woking Crematorium.
The sections on the funeral industry and Frederick Paine's add further depth and interest to what is a thoroughly absorbing book. These pictures show fascinating insights into the trade: for instance the massive wood stakes of Paine's business which emphasise just how many funerals the company was dealing with in the 1930s.
Brian Parsons has succeeded in creating a superb pictorial survey of London undertaking during the last 100 years through some 200 illustrations. The publishers have sensibly chosen to print the entire book on art paper, giving the best possible reproduction for the pictures. Together, they make the book a bargain.
Highly recommended!
Copyright © 2001 by John M. Clarke. All Rights Reserved