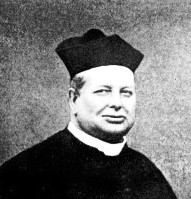 ROBERT WILLIAM RADCLYFFE DOLLING (1851-1902) was an English Anglo-Catholic priest and social reformer.
Preaching at Father Dolling's funeral in May 1902, the Bishop of London said: "When everybody else had given a man up, it was said 'Dolling will take him'."
Robert Dolling was born at Magheralin, Northern Ireland on February 10th 1851. His parents were kindly gentlefolk and young Robert was a welcome member of a happy Christian family.
In due course he was educated in England firstly at Stevenage and subsequently at Harrow and Trinity College Cambridge. Later he settled in London and was attracted to St. Alban's, Holborn. Here he was to learn his trade under such gallant priests as Father Mackonochie and Father Stanton. The latter had founded the London Postmen's League and young Dolling threw his energy into this work and became warden of one of the League's Homes in Borough Road.
"Brother Bob" as he was known, had a magnetic personality coupled with infectious enthusiasm, but these qualities were nothing compared with his love of our Lord - a love that he was able to share with the unloved. He would often invite a motley collection of the roughest street urchins back to the house in Borough Road for a bath and then a hearty meal. The poorest dregs of humanity were drawn to him. They often let him down time and again but he never lost faith in them.
For some time he had felt called to the priesthood and he was ordained Deacon in Salisbury Cathedral on May 20th 1883. His first appointment was as Curate Missioner to St. Martin's Mission in Mile End. A dual purpose building serving a poor district at the northern end of the Burdett Road. He founded various clubs, and most evenings the Mission was packed with "Dollings Boys", many of whom had rather dubious backgrounds including some who had belonged to a notorious gang
of thieves.
He was greatly helped by his sisters who had left their comfortable home in Ireland to help "Brother Bob" at his Mission. The Miss Dollings ran a club for girls and a very successful Ladies Meeting. The Mission catered for the needs of the people body and soul and everything that happened there was lifted up to God, and in the Chapel upstairs the people were taught how to worship the Lord in the beauty of holiness. The young Deacon had hoped that in time the area served by the Mission might form a new parish, but those in authority would not hear of it. It was the first of the many disappointments and set-backs he had to endure.
He was offered the post of Priest-Missioner to the Winchester College Mission at St. Agatha's Landport which he gladly accepted. At that time the parish was a crowded mass of insanitary houses dominated by the Pub, the Pawn Shop and the Brothel. Here the young father was in his element. He kept Open House and the outcasts of society flocked to him. He provided Gymnasiums, Soup Kitchens, Dance Halls and clubs, plus regular outings to the country. He gave everything he had - his time, his home, his money, and when that ran out he would pawn his watch or even his clothes to provide for people in need. Yet the greatest gift he gave these poor people was the Christian faith. Robert Dolling was no theologian, but through his example, preaching and teaching centred around the Daily Eucharist, hundreds of people found a new life in Christ. The work prospered and a fine new church was built. The Requiem Altar from the old St. Agatha's Mission was moved into the new church and this caused a clash with the bishop which meant that Father Dolling had to go.
He left a large part of his heart in that Portsmouth slum, and when he went many hearts were broken and many tears shed.
His last parish was to be St. Saviour's Poplar, a back street church in the East End of London. Here he continued his ministry to Dockland, but the strain, and years of toil had left him broken in health. He was still a big man (he weighed fifteen stone) with an even bigger heart. How he loved to take a party of rough East End lads to a Theatre in the West End.
He had his friends in the world of entertainment and those on stage always knew when Father Bob was in the audience by his hearty laughter. The Vicarage in Arcadia Street was soon "Open House" crowded with all sorts and conditions of people. The little children loved him and would cling to him as he strode around the parish. Lent 1902 was a busy time with a heavy programme of preaching engagements which he managed to fulfill, but back in his own church he was often so tired that he had to preach seated in a chair.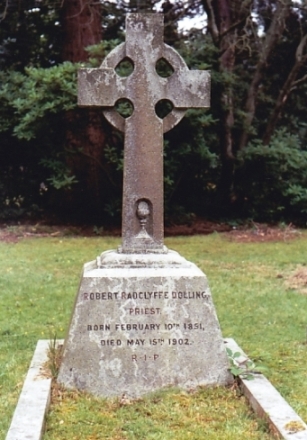 On Easter Sunday afternoon he addressed the children of St. Saviour's at their service. It was the last time he would see them. He was taken to stay with his sister at 88, Philbeach Gardens where he gradually became weaker. On the Sunday after Ascension his friend, Fr. Henry Westall, the Vicar of St. Cuthbert's, Philbeach Gardens gave him Holy Communion for the last time. He died peacefully on May 15th. At his own request his favourite psalm "The Lord is my Shepherd" was said at his bedside just before he died.
After a Requiem at St. Cuthbert's his body was taken to St. Saviour's Poplar where a watch was kept beside the coffin. Throughout the night people came to pray in the silent church and from 4 a.m. the next morning the church was packed with people, many calling in before they went to work. Holy Communion was celebrated every half hour from 4.30 a.m. to 9 a.m. At 10 a.m. the congregation for the Requiem Mass was so large that people had to stand outside.
"Brother Bob" had suffered many set backs and disappointments during his ministry, but he had won the hearts of the poor, and for many who lived their lives in the slums of Limehouse, Portsmouth, or Poplar, life would never be the same again.
Further reading
Chisolm, Hugh. Robert William Radclyffe Dolling. In Chisholm, Hugh (ed.). Encyclopædia Britannica. (11th ed.). Cambridge University Press, 1911, p. 390.
Dolling, Robert R. Ten Years in a Portsmouth Slum. London: Swan Sonnenschein & Co, 1896.
Osborne, Charles E. The Life of Father Dolling. London: Edward Arnold, 1903.
Owen, William Benjamin. Robert William Radclyffe Dolling. In Lee S (Ed.) Dictionary of National Biography. (2nd supplement). London: Smith, Elder & Co, 1912, pp. 512–513.
Copyright © 2018 by John M. Clarke All Rights Reserved