T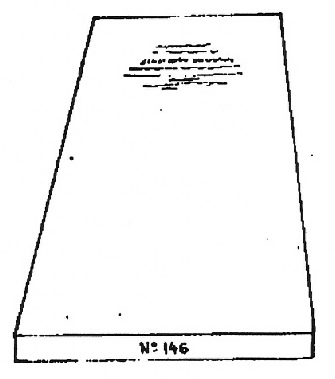 HIS style of memorial is known as a flat ledger or slab. A single thick flat stone is placed over the grave, which may be a brick lined shaft or might otherwise form the entrance to an underground vault. This grave faces directly onto St Chad's Avenue.
Tom Jackson Carlisle was the youngest son of Robert and Elizabeth Carlisle. Tom died at 101 Bermondsey New Road on 5 February 1855, aged 4 years and 6 months. In the burial registers, Tom appears as entry No. 369. His funeral took place on 8 February 1855, and was the only private burial to take place on that day. The burial service was conducted by the Necropolis Company's Anglican chaplain, Rev. Henry Atcheson.
It is not known who made this memorial, nor how much it cost. An interesting detail is that the edges of the stone are chamfered.
The lettering is in standard plain capitals. The epitaph reads:
SACRED
TO THE MEMORY OF
TOM JACKSON CARLISLE,
THE YOUNGEST AND BELOVED SON OF
ROBERT T. AND ELIZTH CARLISLE
OF LONDON
WHO DEPARTED THIS LIFE 5TH FEBRUARY 1855,
AGED 4 YEARS AND 6 MONTHS.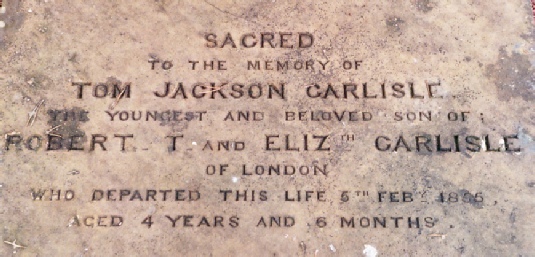 A slight mystery remains. On the front face of the stone is carved "No. 146". Usually this would be the burial number, but the registers indicate that this is not correct. As far as is known, no other member of Tom's family were buried here.
Tom's father was born c.1813 in Cumberland. He is described as "contractor, 160 workmen" in the 1851 Census. Tom's mother, [Grace] Elizabeth Carlisle, was born c.1824 in Kent. Three children are listed in the 1851 Census: Joseph (born c.1847 in Yorkshire), John Hobday (born c.1849 in Derbyshire) and Tom Jackson (born c.1850 in Derbyshire). In 1851 the family was living in Beighton, Derbyshire. Since I have been unable to trace any further details of the family, I would suggest they may have emigrated at some time after 1855.
[From Necropolis News, November 1997]
Copyright © 1997 by John M. Clarke All Rights Reserved