The most remarkable and innovative production inspired by the Brookwood Cemetery railway is the opera Shadowtracks.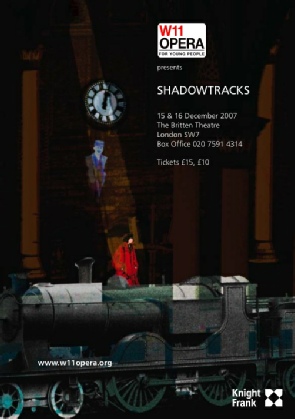 Shadowtracks was premiered in December 2007 at the Britten Theatre, Royal College of Music. It is a powerfully atmospheric piece of musical theatre written especially for W11 Opera for young people. The music was composed by Julian Grant and the Libretto was written by Christiana Jones.
For this Opera I was invited to give advice on specific aspects of the funeral trains, and provided a brief account of the Necropolis train for the programme.
In the empty station, moonlight reveals shadowtracks gently vibrating with the arrival of the Necropolis train, bringing ghosts and memories back down the line. The ghosts must leave by daybreak, but when the train breaks down Victorian children, soldiers, evacuees and suffragettes all become stranded in the present. Will the Ascot party and the football fans see them and who is the strange lady standing patiently under the clock? You can read a full synopsis of the opera here.
The haunting theme of the Necropolis train recurs several times during the production:
Listen look! Listen look! Listen look!
Shrouded in the shadows
Travelling in secret
Burying the excess dead of the dark
The line that links this world with the next one
Necropolis line! Necropolis line! Necropolis line!
Shadowtracks was revived by W11 Opera as its production for 2018. The opera was performed at the Posk Theatre, Hammersmith, on 8-9 December 2018.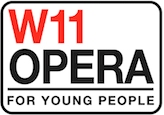 W11 Opera was formed in 1971 by parents living in the W11 area of London who wished to provide an opportunity for young people to perform in an opera. Since then the Opera has mounted a production annually, using a cast of around 80 children aged between 9 and 17. W11 Opera has always followed a policy of working with professional Artistic Directors, Designers and Music Directors. The Opera has developed a policy of commissioning new works almost every year, a unique achievement amongst UK companies.
Copyright © 2019 by John M. Clarke All Rights Reserved