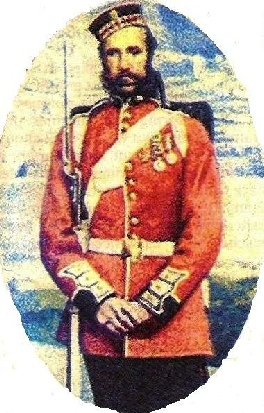 Private William Reynolds VC (1827-1869)
William Reynolds was a stonemason by trade and came from the Stockbridge district of Edinburgh and was born in 1827.
He was a guardsman from No. 4 Company supporting the Scots Fusilier Guards Colour Party at the Battle of the Alma in September 1854. This battle was the first major engagement of the Crimean War. Private Reynolds was awarded his medal for his significant role in rallying the troops and ensuring they fought on, despite increasing heavy fire. The bravery of this Colour Party was such that three of its members were among the first Scots recipients of the Victoria Cross. Private Reynolds was a stonemason by trade and came from Stockbridge, Edinburgh. He received his medal at an investiture held in Hyde Park on 26 June 1857. he later became a bank messenger and died in London in 1869.
His citation from The London Gazette (issue 21971 of 24 February 1857) reads:
"Scots Fusilier Guards No. 3368 Private William Reynolds. When the formation of the line was disordered at Alma, for having behaved in a conspicuous manner in rallying men around the Colours."
William Reynolds was invested with his Victoria Cross by Queen Victoria in Hyde Park on 26 June 1857.
After leaving the Army he settled in London, obtaining a job as a bank messenger. Reynolds died on the 20 October 1869, aged 42, in the workhouse dispensary of the Strand Union, Central London. He was buried in a "2nd class grave" in Brookwood Cemetery, Surrey. His Victoria Cross is displayed at the Guards' Regimental Headquarters, Wellington Barracks, London.
One of Scotland's forgotten war heroes was finally given permanent recognition more than 120 years after being buried in a "2nd class" grave in Brookwood Cemetery.
A memorial commemorating the life of Private William Reynolds VC was placed by the Scots Guards Association Club in Brookwood Cemetery on Friday, 27 April 2007. The costs of the memorial were covered by donations received by the Association at their offices in Clifton Terrace, Edinburgh. A brief service was held over the memorial followed by refreshments in the Garrison Church, Pirbright Camp.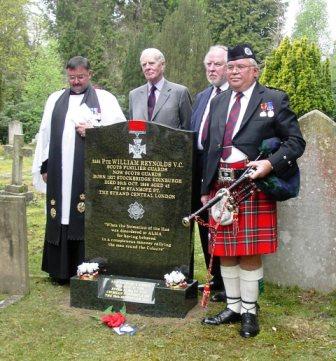 Copyright © 2007 by John M. Clarke All Rights Reserved