Historian of Brookwood Cemetery

The Brookwood Necropolis Railway 2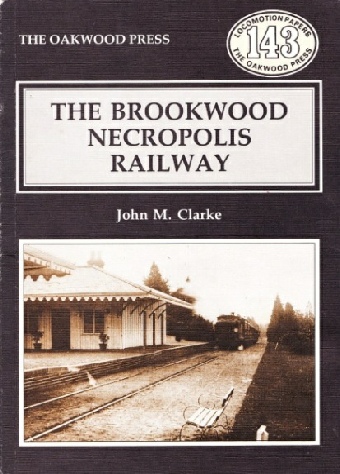 The Brookwood Necropolis Railway
John M. Clarke
2nd edition
Published by the Oakwood Press, November 1988
Paperback, with 96 pages, and 78 illustrations
Price: £4.95
ISBN: 0853613753
Note: this edition has been out of print for many years. It was replaced by the third edition of 1995.
Another funereal looking cover for the second edition of my book on the Brookwood Necropolis Railway.
This first edition of The Brookwood Necropolis Railway had appeared in the old Oakwood Press format of a card cover with all the photographs appearing together in the centre of the book.
For this second edition, the Oakwood Press had been sold (in 1984) to Jane Kennedy, formerly of the Oxford Publishing Company (and better known by its initials OPC). One of her innovations was to change the standard Oakwood format to square-backed paperbacks, with Linson covers. This meant that Oakwood books had a proper spine! The major change however was to the content: illustrations were now spread throughout the book, and pages were printed on better quality paper.
In this major revision, the number of pages was doubled, as was the number of illustrations.
* * * *
My own publicity sheet for the second edition reads:
"That the London Necropolis Company provided daily funeral trains which ran from London down to Brookwood Cemetery is fairly well known, but few accounts of the service have been published.
"This new edition of the only comprehensive history of the cemetery railway includes information on all aspects of the Necropolis service: an introduction outlines why the service began and why it was based at Brookwood; other sections describe the development of the London terminus and of the cemetery branch and its stations. The method of operation is explained; whilst the latter parts of the book cover the more obvious railway aspects of rolling stock, fares and tickets.
"This new enlarged edition incorporates much new material. The book promises to be of considerable interest to railway enthusiasts and local historians alike. Illustrated with maps, diagrams, extracts from company brochures, and forty-two photographs."